I never learned the term "environmental justice," much less became interested in it, until college, even though I grew  up in Los Angeles in the early '90's. Long before I was born, environmental justice advocates started and continue to fight for healthy, pollution-free communities. I still remember having recess indoors or being barred from going to school on days where the air quality was unhealthy for children. Today, Los Angeles remains one of the top 10 cities in our country with the worst air pollution in every category, but it has gotten relatively better due to environmental policies that focus on cleaning up the air, greening urban areas, creating accessible public transit options and much more. Throughout my college and post-grad years I focused on learning all about sustainability, public policy and environmental justice because I wanted a career that pushed for policies that focus on creating safe, healthy and livable communities for all. But I didn't think as much about my own empowerment as an advocate.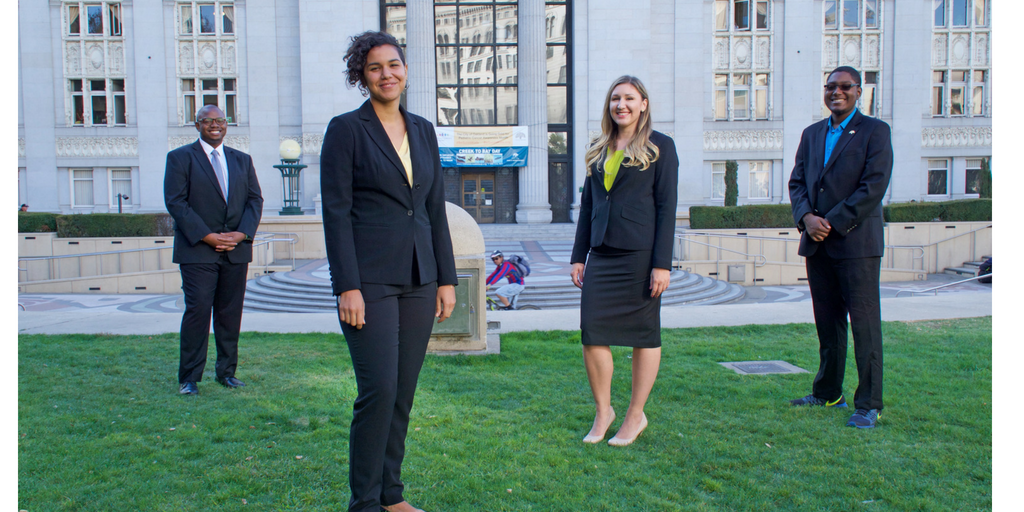 Rewind to two years ago, when my old coworker was encouraging me to apply for the Greenlining Institute's Policy Fellowship. "It's a once in a lifetime opportunity," he told me. While I was already working in my desired field of public policy and equity, I knew that this opportunity could provide me with the right tools to advocate for communities like the one I grew up in: underinvested in and overly polluted. So, last year I made one of the best decisions of my career by actually putting my career on hold and joining a yearlong leadership and policy Fellowship with Greenlining's Environmental Equity team. While I was ready to strengthen my policy skills and learn how best to advocate for environmental justice and equity, the leadership trainings I received added something I didn't know I needed, but that became a critical piece of becoming the policy advocate that I wanted to be.
While traditional leadership training may focus on communication, influence, delegation etc., The Greenlining Institute's Academy trains young leaders in empowerment, intersectionality, self-identity, storytelling and more. By far the most valuable workshop that I attended during my fellowship involved understanding empowerment. Until recently, my mind would not connect the word empowerment, to self-determination, confidence or a way to claim one's rights. Instead, I came to learn that I had a negative connotation with the word because of the way I was brought up. Both of my parents came from modest backgrounds and from countries that were once corrupted by dictators and monarchs who claimed power and left none for the masses. In that kind of environment, where power was abused, the dynamic of power meant there were those in power and those that were oppressed. I came to learn that, based on  that mindset, I had adopted an askew understanding of empowerment as simply having power over others.
The Greenlining Academy staff challenged me to shift my paradigm and instead taught me how to embody empowerment as a self-advocacy tool that makes you ask for what you need to be successful. They taught us that this empowered way of being comes from living in a world view of abundance, understanding that when you are able to lift yourself up, you are also able to lift up others. As a person of color, I realized how I am now able to enter the work space or show up in my personal life confidently asking for what I need, pointing out challenges and injustices, and coming up with solutions with my own voice. As a child of immigrants, I understand how hard it may be to ask for what you need when you were taught that you should never ask for more than what is necessary, or that by simply keeping your head down and working hard people will notice and you will get far. While these values are important to me, the empowerment model I was taught at Greenlining, demonstrated that I could embrace my values while having the confidence to speak up and ask for what I need and merit. In other words (as I was taught in other Oakland spaces), "What would a white man do?"
Greenlining's Racial Justice Framework provided another tool that I have been able to mold and apply to my professional and personal life. Lessons learned from the framework  helped me become not just a better environmental justice advocate, but also a better racial justice advocate. It's helped me to address the root of all justice issues in our country, built on systemic and institutional forms of racism that created the conditions of disparity that continue to oppress people of color to this day.  
Through my daily conversations in professional and personal settings alike, I notice that when speaking of issues from climate change to gentrification, my language has evolved. It has become centered around understanding local community needs, the importance of diverse representation and inclusion, who's being left out of the decision making table and how can we bring them in, understanding a problem in holistic ways, focusing public benefits to achieve equitable outcomes, and the list goes on and on.
With less than two months of my Fellowship left, I think about how I not only refined my advocacy skills and will go back to work in the field of environmental justice to advocate for safe, healthy, livable and economically vibrant communities, but how I was able to grow on a personal level as well. I can now confidently say that through this Fellowship, I was able to grow as a policy advocate and become an empowered woman of color through the ways I see myself occupying spaces, thinking about, talking about and advocating for social equity and empowerment in every aspect of my life and for the people I wish to serve.
Victoria Paykar is Greenlining's Environmental Equity Fellow. Follow Victoria on Twitter.