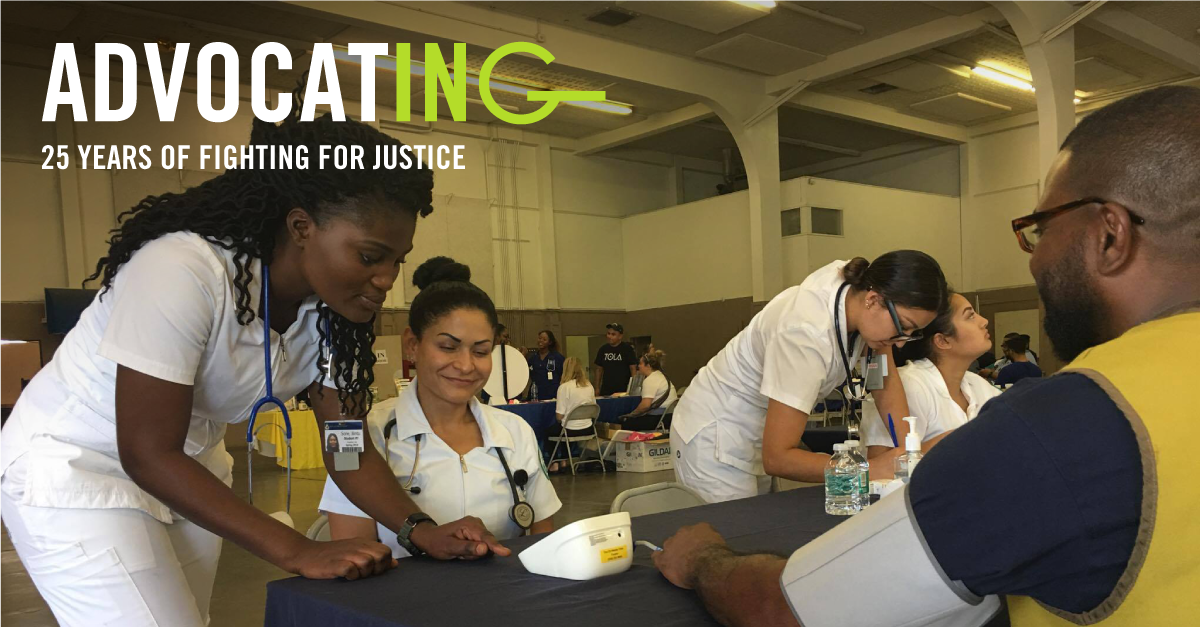 The year 2010 represented a huge opportunity for California and the U.S. to move closer to health for all – something Greenlining always supported, though we'd had only limited involvement in advocacy around access to healthcare. Passage of the Affordable Care Act and creation of what would become known as Covered California changed the picture fundamentally.
It was also a time of transition for our Health Equity team, which had a new director: Carla Saporta, who began attending meetings of what was then simply called California's health benefits exchange. Conversations centered on creating a website through which Californians could access health plans offered under the ACA.
"Knowing what I'd learned from our Telecommunications team about the digital divide, it got me thinking, 'What does this actually mean for communities of color?'" Carla recalls. "A lot of the conversations at the state level were very high level, not really thinking about what actual communities were going to do."
That, Carla remembers, was Greenlining's cue to say, "I know this is the status quo of how things are done, but if you actually want to achieve the goals that you say you want to achieve, you need to change that status quo." We couldn't get to health for all without a serious effort to reach all of California's wildly diverse communities — though pushing the state to do that that might require rattling some cages at Covered California and elsewhere. Thinking about it now, Carla recalls something that Nonprofit Quarterly wrote about another of our efforts in 2011: "The Greenlining Institute often says what other nonprofits only think." She calls that the best compliment she ever got.
The upshot was a report that Carla coauthored called iHealth: How to Ensure the Health Benefit Exchange Reaches all Californians. Written to jar officials out of the complacent feeling that "if you build it, they will come," iHealth pointed out that people of color made up the majority of California's 4.7 million uninsured at the time. It reminded Covered California's leadership that "communities of color and low-income communities have disproportionately low access to the Internet, and are more likely to depend on smartphones for their online access" – circumstances that officials had to consider if they were serious about using the ACA to make health for all a reality.
With a hand from funders The California Endowment and The California Wellness Foundation as well as The Young Invincibles, who helped with outreach and in a variety of ways, iHealth had a considerable impact. The report drew widespread press coverage from multiple outlets, including the Contra Costa Times, Oakland Tribune, KQED-FM, New America Media and more. The KQED story quoted Covered California Executive Director Peter Lee praising the report and saying we'd essentially summed up what the exchange planned to do. Carla even got inquiries from out of state about how they could implement our recommendations.
Covered California admittedly had work to do to reach communities of color, but to a large degree, listened to stakeholders and the recommendations from the report, and eventually did a good job of enrolling our communities. Not only did the state's uninsured rate drop dramatically, racial disparities dropped as well. For example, in 2013, Black Californians were about one third more likely to be without health coverage than Whites, but by 2016 the gap had disappeared. All racial groups saw big gains in coverage, and gaps between them narrowed dramatically or disappeared altogether.
With gains from the ACA under attack, we've been and will continue to be part of the fight to preserve the law and to expand coverage to those now excluded, like the undocumented. We supported and helped pass legislation that took effect in 2016 to provide full-scope Medi-Cal to undocumented children. With stepped up ICE raids and attacks on Deferred Action for Childhood Arrivals, we will not forget our undocumented neighbors.
But we're also looking beyond just access to health care, because health for all requires true health equity. That means pushing hospitals, which are pulling in more money than ever, to invest in the health of their communities – not just charity care, important as that is, but also proactive investments in the things that build healthy communities, like safe, affordable housing, nutrition and a clean environment.
It also means building a diverse healthcare workforce and breaking down barriers that cause women of color, for example, to be woefully underrepresented in medicine.
We're proud of our work with Covered California, but we won't let up until we truly achieve health for all.
Anthony Galace is Greenlining's Health Policy Director. Follow him on Twitter.
[embedboxfull type="start"]
Keep up with Greenlining's latest developments
Sign up for updates

[embedboxfull type="end"]