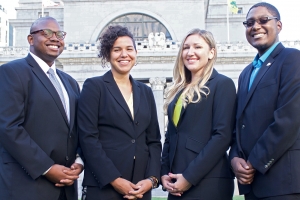 I am now two months away from completing my tenure as a Greenlining Leadership Academy Policy Fellow. My Fellowship experience has been one filled with successes, challenges, and plenty of growth, but as I reflect, I'm happy to say that I would do it again. My time as a Fellow empowered me to become a better advocate for community and racial equity, and to continue my journey towards being able eliminate barriers to opportunity for marginalized communities in my state.
When I began my year as a Fellow, I was confident that one day I would become a major change maker in my community; however, I was unsure of how I would do it. Early in the Fellowship, I attended Leadership Academy workshops focused on communicating the goals of racial equity to stakeholders and understanding the importance of self-empowerment. These workshops, in combination with mentorship, helped me become a better advocate for expanding health care opportunities for communities of color throughout California. Over time, I began to connect with partners from the Alameda County Health Pathway Partnership and understand barriers that have been erected to keep marginalized communities out of health careers in my home county. I also had the opportunity to reconnect with former teachers, friends, and colleagues and gained an understanding of the policy landscape of my hometown of Oakland, California. These experiences opened my eyes to local and regional policy challenges, but also set me on the path to start making change.
Roughly halfway through my Fellowship, I provided in-depth public comments to a health workforce commission chaired by the president of the University of California and the CEO of Dignity Health. Obviously, I was a bit nervous. Nevertheless, I persevered and advocated for investment in health pipeline programs that serve immigrants, low-income communities, and young men of color like myself. While initially nerve-wracking, my public comments ultimately felt empowering. I was finally able to use my voice to advocate for the communities most in need.
I really think my experience serves as a testament to the power of investing in young leaders of color. I was able to leverage my story and personal experiences to give life to the data and research that clearly show underrepresentation across the health sector. The fact that I had the opportunity to give these comments demonstrates how much faith Greenlining has in its Fellows and the power of equitable leadership development. I encourage young people of color aspiring to be racial equity advocates to apply to the Leadership Academy and any other programs that promote empowerment for future racial equity advocates.
Not only did I advocate to policy leaders, but I was also able to build upon my skills as a connector to convene partners and move Greenlining's work forward. As a Fellow, I led legislative visits in Sacramento and convened regional partners to discuss eliminating employment barriers for vulnerable communities in my hometown. My Leadership Academy experience strengthened my desire to continue to seek learning opportunities and challenges to ensure that I am the best possible advocate for my community.
As I close out my Fellowship, I now reflect on an array of achievements. I have fought for a more diverse health workforce, worked to expand job opportunities for communities of color in my hometown, and labored to strengthen the Leadership Academy's presence in Oakland by convening new partnerships. Although my journey has just begun, I'm happy to say my Fellowship proved instrumental in preparing me to be the bold racial equity leader that my community needs. Moving forward, I encourage racial equity stakeholders to continue to invest in our young leaders of color to ensure that they have the necessary advocacy tools to promote social change. My experience as a Fellow not only gave me the tools that I need to succeed as an advocate, but also a chance to fight for improvements in my own community.
Denzel Tongue is Greenlining's Health Equity Fellow. Follow him on Twitter.