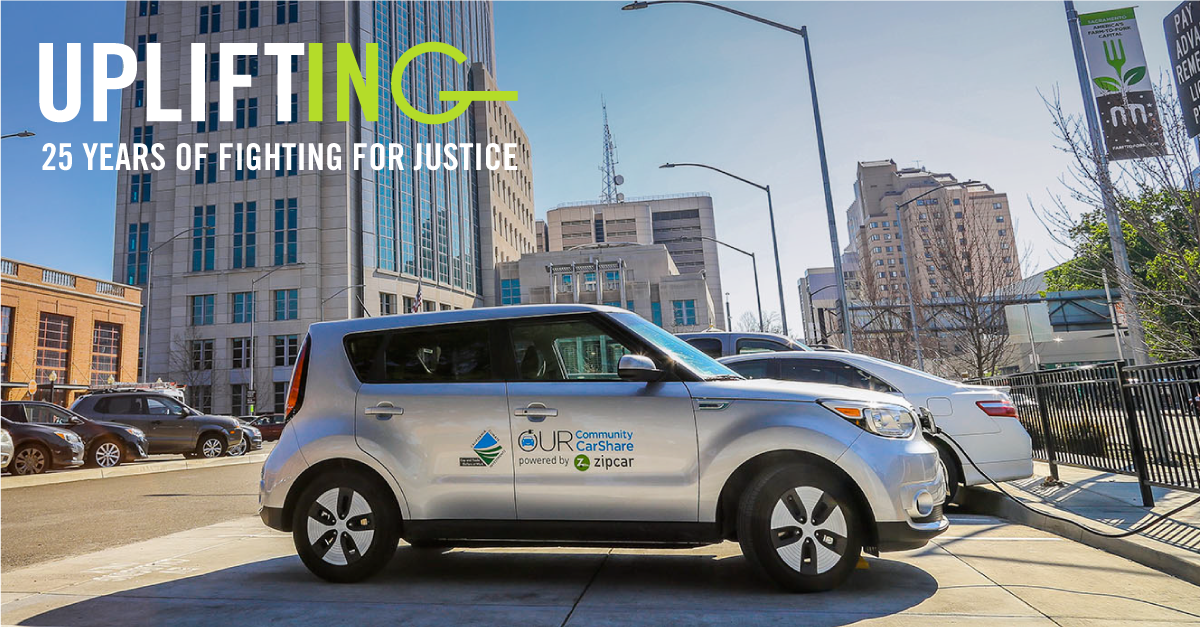 This month, low-income residents in Sacramento and Los Angeles will get access to electric vehicle carsharing programs that provide pollution-free mobility at low or no cost to them. These programs represent just a small part of California's multi-billion dollar effort to combat climate change while fighting poverty and pollution together.
It wasn't always that way. For too long, the environmental and social justice movements stood miles apart — barely talking, and sometimes fighting each other. It's been an arduous struggle to get where we are today, paved with the sweat and tears of environmental justice leaders. But today we see a growing realization that it's too simple to say that climate change doesn't discriminate; it hits low-income communities of color the hardest. And — with The Greenlining Institute helping lead the way — it's now official California policy that fighting poverty and pollution at the same time isn't just possible, it's essential. Structural racism got us where we are, and addressing structural racism must be part of fixing it.
We've taken important steps, but we have a long way to go.
LEADING THE WAY TO FIGHTING POVERTY AND CLIMATE CHANGE
After California committed to fighting climate change with legislation called the California Global Warming Solutions Act (AB 32), Greenlining helped draft two critical follow up bills, SB 535 and AB 1550, which guarantee that over one third of the funds collected from polluters go to communities most impacted by poverty and pollution. Those funds expand access to solar power, home weatherization, clean transportation and more, while creating jobs in communities that urgently need them — fighting poverty even as we clean the air our kids breathe.
To make sure our communities know about these benefits, we put together a website called UpLift California that not only tells the story of how these policies change lives, it helps individuals and community groups connect to help saving energy and greening their communities.
As we convert from polluting gas and diesel vehicles that foul the air and worsen climate change, Greenlining has worked to ensure that the benefits of clean, electric cars and trucks reach low-income neighborhoods. And we helped to create an innovative program called Transformative Climate Communities that allows whole communities to "connect the dots" between resources like affordable housing, clean transportation and energy efficiency, allowing entire neighborhoods to join the effort against climate change while fighting poverty and reaping the benefits of green technology.
Altogether, these efforts have resulted in over $1 billion invested in these communities to address climate change, poverty and pollution. That's not all. Today we are working to ensure that all communities, particularly the most under-resourced, can participate and compete for resources to improve their communities; that the clean energy sector is diverse and produces goods and services that benefit our communities; that old and new forms of transportation meet the mobility needs of low-income people of color; and that we help vulnerable communities adapt to a changing climate and become strong and resilient.
[embedboxfull type="start"]
Help fuel our fight against poverty and pollution. Support Greenlining today.

Donate Now

[embedboxfull type="end"]
POVERTY AND POLLUTION GO TOGETHER; SO MUST THE SOLUTIONS
People of color face higher levels not only of poverty and pollution, but also poor health, incarceration, unemployment, state violence, school drop out rates, etc., because of systematic racism. Spreading dollars around the state equally won't change that structural inequity, so we must target investments to communities that faced disinvestment for so long..  It's time.  Lifting the most vulnerable lifts everyone up. Today more than ever before we must lead with bold vision, strong principles, solidarity, and an unapologetic commitment to racial justice.
Our successes and, most importantly, our failures can be a guide for the rest of world in this fight. I've certainly learned some lessons:
First, we must listen and trust people and organizations living on the front lines, the ones literally fighting for their lives.  People closest to the pain are also closest to the solutions.
We need to always remember that addressing climate change at the expense of or neglecting the most vulnerable communities is unacceptable. A clean energy economy that bakes in inequities, marginalization, and oppression is no better than the extractive economy we currently have.
California must lead the way.
And we must do that in the face of a federal administration that makes clear every day that it has no interest in either racial justice or protecting our environment. In fact, it's doing the precise opposite by pulling out of the global accord to fight climate change, opening up sacred lands to extractive businesses, and trying to limit California's world-leading vehicle emission standards.
For now, California must take the lead on fighting poverty and pollution, and everyone reading this can help. First, register to vote by May 21. You can register online here.
Then, vote  NO on Prop. 70, a corporate-led attack on climate action in California and YES on Prop. 68, a $4 billion fund for parks in park-poor neighborhoods and clean drinking water.  Then pay close attention to the mid-term elections for Congress and state offices, and support candidates who will strengthen the effort against climate change with solutions that prioritize the most impacted, fighting poverty even as we improve our air and water.
We can have a clean and healthy world. We can have thriving communities. But we're going to have to fight for them together.
Alvaro Sanchez is Greenlining's Environmental Equity Director. Follow him on Twitter.
[embedboxfull type="start"]
Help fuel our fight against poverty and pollution. Support Greenlining today.

Donate Now

[embedboxfull type="end"]