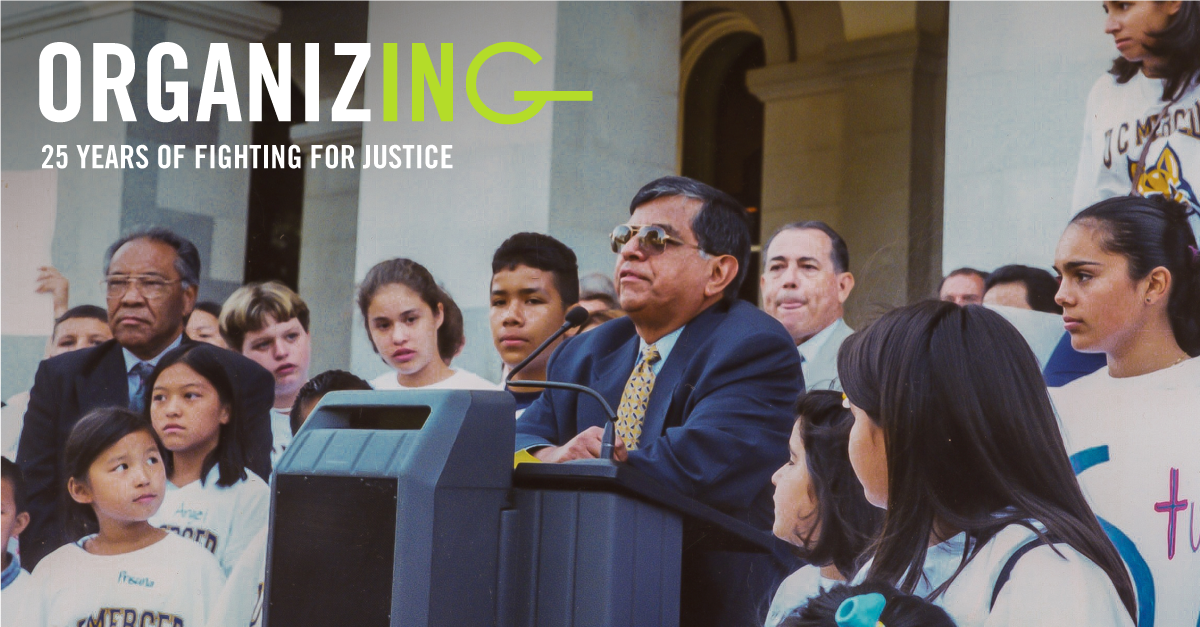 The environment is a key civil rights issue, but when I started to get involved in environmental issues, we didn't often see other people of color in the room and at times it seemed like mainstream environmentalists were more concerned with saving trout than with getting clean water to low-income children.
In the aftermath of the L.A. uprisings in 1992, several Greenlining Coalition members, led by our coalition partners at West Angeles Community Development Corporation and F.A.M.E. Renaissance, started an effort to revitalize their communities that had been torn apart by redlining. They particularly wanted to address the numerous vacant and abandoned sites found in California's inner cities, called "brownfields." Not surprisingly, brownfields were more common in redlined communities, the leftovers from gas stations, small manufacturers and other industrial facilities. We wanted to clean up these sites and turn them into productive properties that provided jobs and other opportunities to the community.
We worked together to find practical approaches to cleaning up these brownfields. In some other parts of the country, people were looking at legislation to streamline and clarify the process and make the cleanup appropriate to how the site was going to be used. Lack of clarity and unrealistic standards were keeping these brownfields from being redeveloped. That meant they were left as vacant, decaying eyesores in the community – and still contaminated.
[embedboxfull type="start"]
Help fuel our fight for justice. Support Greenlining today.

Donate Now

[embedboxfull type="end"]
But when we started talking about practical steps that made sense, so that these abandoned properties could come back into play, some environmental groups came unglued. The Sierra Club in particular opposed the legislation we proposed, and they had a big influence with California Democrats. It put the Democrats in a quandary, because two parties that had historically been their supporters, environmentalists and people of color, were battling each other over this bill. We ended up with a compromise piece of legislation that did some good, but not as much as we wanted.
But we learned something about competing in Sacramento with other interest groups that had a history and know-how in working the legislature. We weren't competitive in that arena and weren't treated as well. So we learned to identify legislators on key committees whose margin of victory in the last election was less than the minority vote. We organized in their communities and set up meetings with the legislators in their home districts, and then would have a press conference afterwards with the local media. That's how we got our brownfields bill as far as we did. We didn't get everything we wanted, but we learned how to fight in Sacramento.
The Battle for UC Merced – Universities, Not More Prisons
Our next big battle on the environmental front involved the site for UC Merced. California's right wing policies had led the state to building numerous prisons while no new University of California campus had been built in more than a decade. California's growing population demanded more university classrooms, not more prison beds.
There had been discussions about building a UC campus in Fresno for many years, and we supported it, but the state got an offer of free land in Merced. We decided it was better to go ahead and get it built in Merced rather than hold out for Fresno, where it might never get built. Meanwhile, key environmental groups opposed the siting of UC Merced, mainly due concern for the fairy shrimp — tiny little creatures that live in the pools that linger after it rains. I didn't want to be the killer of the fairy shrimp! But it turned out there were millions of acres where they could still live even if the campus was built. Still, opponents got the ear of the western region director of the federal Environmental Protection Agency.
In addition, racist attitudes within the mainstream environmental community led to statements like, "Why do you want a university if your children are not even going to attend?" These same voices had allowed for the construction of numerous prisons on similar fairy shrimp habitat.
Led by one of our founders, Ben Benavidez, Greenlining and our coalition organized San Joaquin Valley residents to give testimony at hearings in support of the campus. To our surprise, only the area's Republicans came to our support.  Meanwhile, we met with African American clergy and then President Bush. We said, "Look, we need your help. Your EPA is in cahoots with the people blocking the UC campus." He put us together with his aide, who set up a meeting with EPA Director Christine Todd Whitman, and I flew to Washington, DC to meet with her. She had so many people with her that the introductions took longer than the meeting itself, but it was a good meeting, and by the time I got back to San Francisco, they'd fired that western region director.
We're not entirely sure why that local EPA director was let go, but we took the credit anyway.  Soon, Carl Pope, then President of the Sierra Club, met with us and graciously agreed to stop opposing construction of U.C. Merced, and a compromise kept a piece of land near campus pristine in perpetuity to protect the fairy shrimp.
So it turned out okay for everyone, but some hard feelings definitely remained. As newcomers to the policy arena, we weren't treated very respectfully, and we had to play some hardball to get there, including an ad in the New York Times. And when it looked like Gov. Gray Davis was going take the money for the campus out of the state budget, we had a "Rally for the Valley" at the state capitol, busing in over 100 Latino and Hmong high school students from the Central Valley.
At one point, we stormed into the capitol which caught capitol security off guard. And then the governor came out, grabbed our microphone, and said, "I'm so glad you guys are here," as though he'd invited us. He said, "I want to let the public know that we're going to build the greatest UC," and he put the money back into the budget and took credit for it. I was dumbfounded. But we got UC Merced built.
EDITOR'S NOTE: This fairly tumultuous start set the stage for Greenlining to take a more active role in environmental issues in more recent years, as the environmental movement became more conscious of equity issues. Next month, Environmental Equity Director Alvaro Sanchez will address how we've been involved in shaping current California policies on climate change and access to electric vehicles to ensure that communities of color and low-income Californians reap the benefits of our growing green economy.
John C. Gamboa was founding Executive Director of The Greenlining Institute and now serves as Vice Chair of California Community Builders.
2018 marks The Greenlining Institute's 25 anniversary. We're marking the occasion by sharing some highlights and memories of our first quarter century. Read the rest of the series here.
[embedboxfull type="start"]
Help fuel our fight for justice. Support Greenlining today.
Donate Now

[embedboxfull type="end"]