Oakland's legacy of protest, social movements and community organizing lays at the heart of the city. It seems that just around every corner a Black Lives Matter, No Ban No Wall or All Are Welcome Here poster can be spotted. Environmental justice, though less regarded, remains an important component of the movement for social justice, and in a city like Oakland, where almost three-fourths of the population are people of color, investing in the health and needs of the community are non-negotiable.
At the state level, the California Air Resources Board developed its Scoping Plan in an effort to achieve a 40 percent reduction in greenhouse gases by 2030 compared to 1990 levels. To address the specific concerns of communities across the state, the ARB formed the Environmental Justice Advisory Committee, comprising of local nonprofits and community organizations working on environmental issues. For the Bay Area, several organizations, including the Asian Pacific Environmental Network, Global Alliance for Incinerator Alternatives, Urban Releaf and The Greenlining Institute held two public meetings in Oakland for community members to express their needs and concerns. From here, EJAC developed a list of recommendations to be implemented in the Scoping Plan, with transportation and the freight sector of particular concern.
Pollution and greenhouse gas emissions are a primary concern in Oakland, with over half of toxic emissions tied to transportation. When released into the air, these toxins make people more susceptible to asthma, premature death and heart and lung problems, and it is no mistake that people of color suffer disproportionately. In West Oakland, a predominantly black, low-income community, residents are five times more likely to be exposed to toxic pollution than in the increasingly gentrified parts of Oakland. This varied risk can be linked to redlining, a practice that barred black and brown families from moving into well-funded areas with better schools and resources. Though redlining became illegal in 1968, its effects continue to prevent these communities from accessing resources and opportunities, and formerly redlined areas remain among the most polluted. By attending to the needs of low income and black and brown residents, the Scoping Plan has the potential to address issues tied to this history of discrimination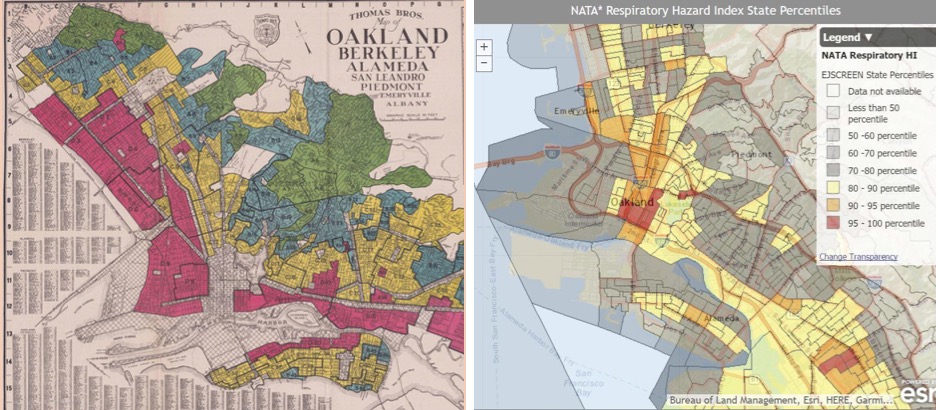 Officials must prioritize questions of affordability and accessibility of clean transportation options in order for the Scoping Plan to be effective. Many residents at the public meeting in Oakland called for cleaner modes of transportation, such as zero emissions vehicles, and for rebates on these vehicles because they are so expensive. Shifting from vehicles powered by fossil fuels to electric or hydrogen-powered vehicles would mean less pollution, effectively eliminating a major problem for Oakland residents. At the same time, these alternatives need to be affordable for them to be accessible. By incentivizing clean energy vehicles and charging stations, Oakland residents can begin to create this ideal future.
Oakland's mass transit system also plays a central role. Approximately 21 percent of Oakland residents use public transportation, according to a 2016 Smart Asset survey. Public transit is not only a question of city planning and efficiency but also of accessibility, as many working-class individuals, people of color, disabled folks and youth rely on it exclusively. Rather than siphoning money into freeways and parking structures, more money should go into funding mass transit and active transportation projects. Oakland residents addressed the question of accessibility and affordability at the community meeting, suggesting that offering free bus passes and creating covered stops for youth and elders can help bridge disparities in this sector.
As we work towards a greener, more equitable future, we will have to address the historical dispossession of black, brown and indigenous communities because race and the environment are inherently connected. The California Air Resources Board has the opportunity to create long-term changes for the people and the environment by listening to the needs of the community and incorporating them into their Scoping Plan. We are approaching a point when we can no longer ignore the environmental harm caused by decades of negligence. By investing in those most impacted by a structural failure to do so, we can create a sustainable and equitable future.