Late last month, three years after most leading Silicon Valley companies released diversity data, Uber finally joined the ranks, producing a small flurry of press coverage that was mostly in the vein of, "yeah, another tech company that's not really diverse."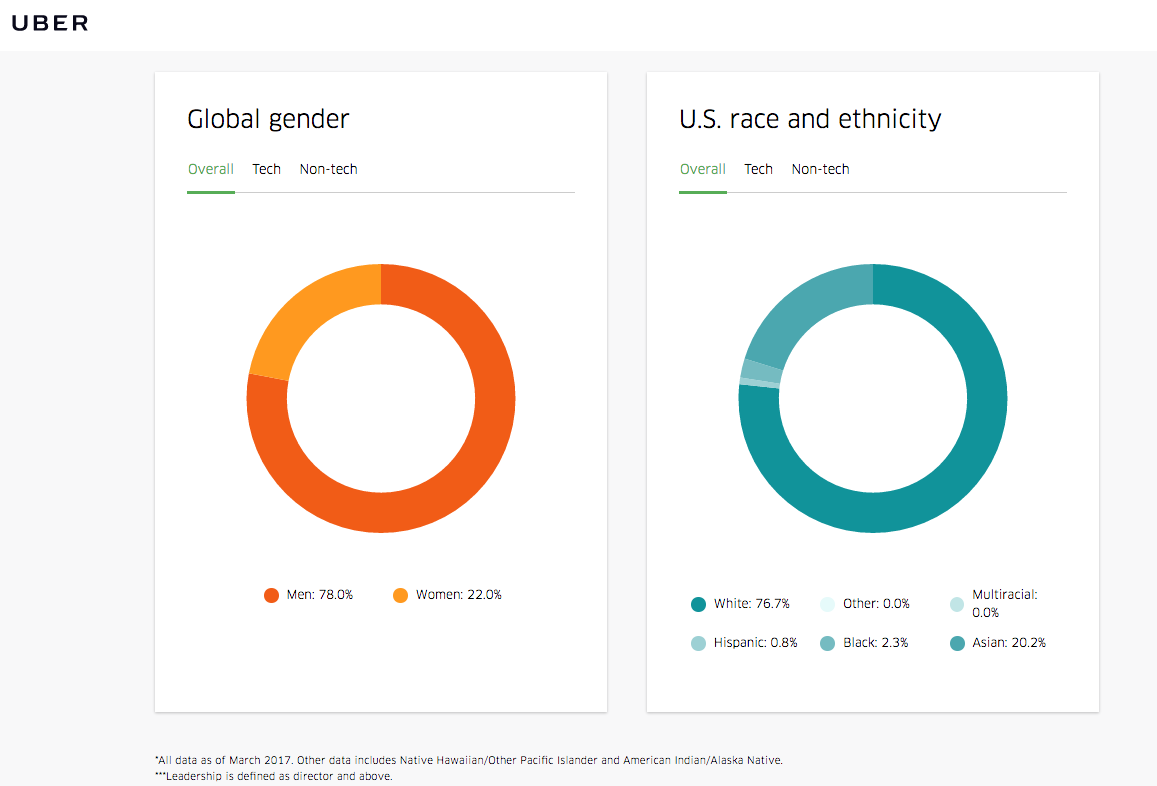 But with Uber still planning to set up an office in Oakland, a diverse city struggling with gentrification, it's worth taking a closer look.
The timing of the release was telling. For years members of the racial justice community, the White House, and even Uber's own hiring recruiters called on Uber to release diversity data, but the $60 billion company stayed silent. What changed?
Well, a recent slew of PR nightmares left Uber desperately working to save its image. Recent headlines on systemic sexual harassment, the CEO's immature leadership, and ties to the Trump Administration landed the company in plenty of hot water and even resulted in the infamous #deleteuber Twitter hashtag. The company needed to show it was at least trying.
So, after much anticipation, Uber finally released its diversity data.
Highlights include:
Executive leadership: Out of the company's 138 most senior executives, only 38 identity as people of color and just 35 identify as women
Technology leadership: 25 percent identify as Asian/Asian American and 75 percent as white. Women represented just 11.3 percent of tech leaders.
Technology staff: Latinos and African Americans are severely underrepresented at 2.1% percent and one percent, respectively.
Overall U.S. staff: Here things look marginally better, with 5.6 percent identifying as Latino, 8.8 as black, and 30.9 percent as Asian/Asian American.
Strikingly, Uber's data release excluded its drivers – contractors with none of the rights and benefits of employees – who have previously been reported to be nearly 18 percent Latino and 20 percent black. Comparing them to the more prestigious and lucrative jobs, we see a workforce nearly as segregated as the Jim Crow south.
While the statistics may be disturbing, they aren't unusual for the field. What really gives cause for concern is that Uber has no apparent plan for what's next. Its newly launched diversity web page has lots of feel-good language and pictures of attractive women and people of color, but little substance. Beyond a list of employee resource groups and announcing new staff trainings, we see little commitment to real action. Take the closing paragraph:
"We're still relatively young as a company, and we know we have a lot more to do. In addition to moving the ball forward on all the data above, we recognize the relative lack of diversity across all forms of leadership, including on our board of directors, and will be thoughtful about diversity as the company grows."
Words speak volumes. To be "thoughtful about diversity as the company grows" might as well mean, "We'll put up the window dressing until the storm passes."
Like many of its peers, Uber has so far responded to its diversity problem with surface level language, highly publicized photo-ops, and throwing (a little) money at the problem. The company announced a commitment of $3 million over the next three years (compared to $300 million committed by Intel in 2015) to help develop diverse engineers. That's nice, but it's not a plan with concrete, actionable steps.
Folks working in the diversity field know it takes visible, active engagement from leadership as well as solid, deliberate actions to seek out diverse recruits and guarantee they feel supported and safe in the workplace. This isn't rocket science. We know how to do it. But it takes more than the warm and fuzzy rhetoric we've seen so far.
Real change comes from commitment, and so I'll remain skeptical until proven otherwise. Community members in Oakland have tried to work with Uber since it announced an expansion here two years ago. So far, CEO Travis Kalanick, Global Head of Diversity Bernard Coleman III, or even the recently appointed Chief Human Resources Officer Liane Hornsey have declined to even respond to our numerous requests for meetings.
We want Uber to be a good neighbor and we have some uber ideas of how it could happen.
We'd like Uber to learn, grow and get better as it comes into our town. But if that doesn't occur, Oaklanders will have more to say very soon.

Danielle Beavers is Greenlining's Director of Diversity and Inclusion. Follow her on Twitter.