This past September, California put its money where its mouth is and signed Assembly Bill 2722 (Burke), the Transformative Climate Communities Program. AB 2722 requires that the folks at the California Strategic Growth Council set up a competitive process to award monies to neighborhood-scale projects that will reduce greenhouse gas emissions and provide local, environmental, economic, and health benefits to disadvantaged communities.  What do I mean by "neighborhood-scale"? Think your entire neighborhood—including that neighbor who sometimes parks in your space, the nice lady across from you who is always sweeping her front porch and also your neighborhood school, park, community center, transit hub, etc.
Disadvantaged communities are defined by CalEnviroScreen, a mapping tool that uses a census-tract level view to identify areas most affected by pollution and poverty. Low-income communities of color make up a large portion of disadvantaged communities, which is why TCC represents a tremendous opportunity to raise the bar on the creativity of cities, agencies, and community-based organizations, to produce models for investment that promote people, prosperity, and the planet.   
Greenlining and the California Environmental Justice Alliance co-sponsored AB 2722 to provide the framework upon which TCC will be built. We now have an opportunity to champion projects that will improve entire neighborhoods by embracing community-led projects;  the residents of these communities are intimately aware of the shortcomings that plague their communities and know what type of projects will best benefit them.
Transformative comes from the Latin word for "change in shape," and appropriately, a neighborhood-scale project is meant to change or mold an existing community.  These projects aim to transform and uplift all aspects of a neighborhood and its residents. The 'transformative" portion of TCC can be thought of as the opposite of gentrification (which typically is imposed on a neighborhood by outside forces) because the type of change TCC seeks to make inevitably requires community input, involvement, and partnership — all necessary ingredients to create a sustainable and healthy community.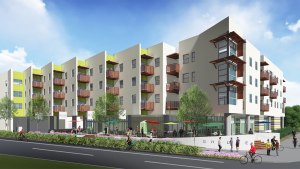 It is not new for cities to invest in their communities.  What is new is the multi-outcome principle behind TCC, which ensures that neighborhood-scale projects reduce greenhouse gas emissions and provide direct local, environmental, and health benefits to the residents of disadvantaged communities.  TCC's intention to invest in the communities most vulnerable to the harmful effects of pollution gives us a rare opportunity to elevate the investments made in the community and investments made involving the community.  
The ethos of TCC is so revolutionary that we have no examples of what a TCC project looks like. However, we will soon begin to find out how the vision behind TCC will manifest itself on the ground. We can see an example of how TCC may benefit a disadvantaged community in the City of Fresno.
City of Fresno.  
In September, the Strategic Growth Council awarded Fresno $70 million of TCC funds to improve its community.  The SGC explained in the Notice of Proposed rulemaking that Fresno will benefit from these projects because it ranks among the five percent most disadvantaged communities in the state.  In fact, Fresno holds one of the highest concentrations of poverty in the nation. Consequently, Fresno needs to transform its transportation, housing, and economic opportunities for residents while improving climate resilience and economic sustainability in a way that is just and equitable.
How Fresno responds to the immediate needs of the community (e.g. quality jobs, mobility, better health) will determine how successful TCC projects will be in Fresno. Those crafting projects in Fresno must simultaneously consider the needs of the environment and the needs of the residents.  A successful program will uplift the community and the people who reside in it. Achieving the goals behind TCC will take a lot of work, planning, and willingness to think outside the box because this is a once-in-a-generation opportunity that we cannot afford to get wrong. The stakes for our planet and our people are simply too high.
You can Help Shape TCC
Over the next few months, YOU have an opportunity to shape how TCC works.  Here are a few items to consider:
Connect with local community-based organizations or nonprofit organizations like

Greenlining

to learn more about TCC and stay informed.

If you live in Fresno or  Los Angeles, stay particularly connected as it is assured that projects will be funded in those areas.

Sign up for

TCC

updates and read the guidelines so that you can submit a comment by January 9th, 2017.
Remember, while climate change affects everyone, that burden falls harder on communities of color and low-income neighborhoods. We all need to get involved in shaping the solutions, and in making sure those solutions truly lift up all our communities.