Over the next several weeks we're posting a series of blogs from our current Greenlining Fellows, exploring their own personal transformation and #ChangeFromWithin, and what that means for leadership development. You can read Patrick Brown's introduction to the series here. Here at Greenlining's Leadership Academy, we've been on a journey. We invite you to join us.
There's a classic Joni Mitchell lyric from the song Big Yellow Taxi that goes, "Don't it always seem to go/That you don't know what you got 'till it's gone." For me, the Greenlining Fellowship was the opposite. I didn't know I wanted it. I didn't know I needed it. But once it was part of my life, I knew I had something special. But let's back up first.
As a bit of background, Greenlining offers legal and policy fellowships that train recent graduates in areas like environmental justice, economic equity, health policy and telecommunications. The legal fellowship is for law school graduates and combines public interest legal work with a leadership development program.
When I was accepted as the telecommunications and technology legal fellow, I was immediately all in on the legal work, I'd get to advocate for affordable access to broadband for low-income folks, and for communities of color in particular. I would have the opportunity to participate in merger discussions and help influence tech policy for legislators, the Federal Communications Commission, and the California Public Utilities Commission. On the other hand, I wasn't so excited about the Leadership Academy. I secretly thought a lot of the leadership development curriculum was a bunch of soft, new age, mumbo-jumbo.
After all, I had just spent three years in law school where I systematically erased my personality in work settings and replaced it with a professional lawyer robot. I felt that I didn't need workshops about the empowerment model, mindfulness-based stress reduction, coaching as a management strategy or self-reflection. I got by just fine in law school without learning those things, thank you very much. In my head, I was a model lawyer, and that meant I was clever, hardworking and confident, all while not being an annoying gunner.
What I didn't stop to think about was that I was comparing myself to other law students, while to the rest of the world I was on my way to becoming a walking lawyer stereotype. You know, the ones where lawyers are know-it-alls, pessimists, risk-averse, dispassionate, competitive, and self-absorbed. To be fair, the attorney culture and workload can push anyone into that mindset. It's likely a big reason one third of lawyers develop depression and alcohol abuse.
---
Are you next? Applications now open for our Leadership Academy's 2018 Fellowship and Summer Associate programs.
Apply Now

---
Now, six months into the fellowship, I can honestly say that chart above isn't just mumbo jumbo, it works. For example, in any trial advocacy class they'll tell you, "Don't ever ask a question you don't know the answer to." That's smart advice during a trial, but I internalized that mindset in the rest of my life. This meant I didn't push myself to do things where I didn't know what the outcome would be.  Through the reflection and coaching process at Greenlining, I learned to keep the good habits I picked up in law school while moving away from a lot of the behaviors that held me back from being a better advocate. This process revolves around answering questions posed by Academy staff that force you to become more introspective about your assumptions and worldview. It's hard to quantify or explain, but through the process I've learned to be comfortable with failure and taking risks, and that's opened up a world of possibilities.
In the past couple of months, I've found motivation that I didn't think I'd ever have. Like a lot of lawyers, in the back of my head, I had resigned myself to crushing it at my job but doing it for the paycheck, not the passion. That's no longer the case. Now I've taken a risk and started working on a whole new advocacy area for Greenlining, exploring how big data can perpetuate patterns of discrimination – something I call "digital redlining." Nobody asked me to do this, but my supervisors and the Greenlining leadership gave me the support and space to make this project a part of our work going forward. This responsibility is terrifying but intoxicating. It's pushed me far out of my comfort zone, to do things I'd never thought I would. Just last month I gave a speech protesting the creation of ICE databases to target and deport undocumented immigrants.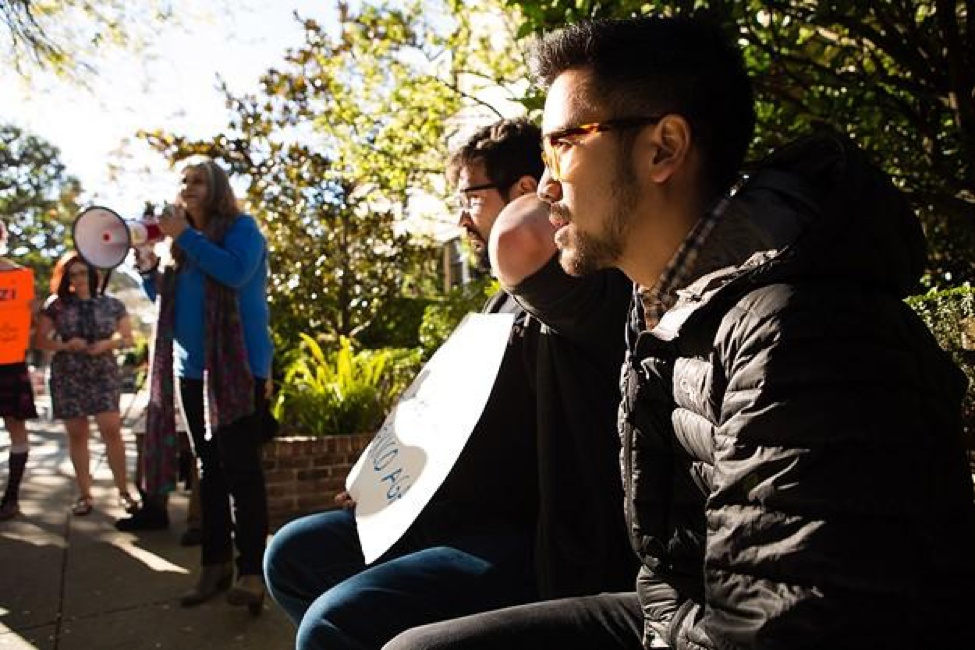 In the increasingly divisive atmosphere we face under the current administration, we all need to be able to get out of our comfort zones.
I don't know where I'll be going after the fellowship ends, but I don't have to wait until I leave to appreciate what the Leadership Academy has done for me, and know that I'm going to miss it when I'm gone.