To see photos from the Academy Graduation and Celebration, click here.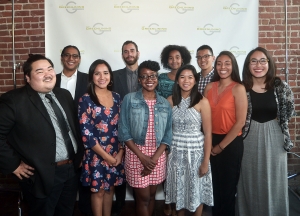 I don't know about you, but I almost can't stand to watch coverage of the presidential campaign anymore. Every day it seems to get more toxic, mean and detached from reality – but two events I attended last Thursday give me hope.
That morning our Summer Associate class presented the research projects they worked on for their 10 weeks with us. Not only did they teach me things I didn't know about issues ranging from community land trusts to the discriminatory impact of criminal record background checks for employment, they helped me feel like maybe this country does have a future after all.
One of them, Angelo Sandoval, a law student who already has a master's degree in public affairs (and who I swear will be on the Supreme Court someday), mentioned that he was the first in his family to graduate from high school.
We see this every year in our Leadership Academy: Incredibly bright, talented young people dedicated to making the world a better, fairer place, but who are often the first in their families to have the opportunity to truly make a difference. That's why we have a Leadership Academy. For America to succeed, it needs dedicated leaders from all sorts of backgrounds and experiences, but if you look at Congress or corporate boards and executive suites, you'll see a lot of white males from affluent families and not nearly enough of anyone else. Greenlining wants to change that, because smart, diverse leaders can change the world.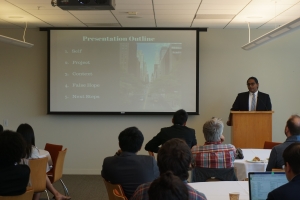 Indeed, some of our Academy participants already have. A few years ago, one of our Summer Associates studied voting patterns in municipal elections, tracking the drop in turnout when cities and counties hold their elections in odd years when nothing else is on the ballot. He found that far fewer voters turn out in these odd-year elections than when local votes are held at the same time as voters pick senators, the governor or the president. And in low-turnout elections, the electorate skews whiter, older and more affluent, diminishing the voices of the young, the poor, and people of color.
When we published his report the Los Angeles Times covered it, and as a direct result the city of Los Angeles rewrote its charter to begin holding city elections in even years, alongside state and national elections. Sometimes change comes hard, but sometimes all you need to do is give officials a little push.
Thursday night after the presentations we had a graduation ceremony and celebration to say an official goodbye to both the Summer Associates as well as this year's group of Fellows, who've done amazing work all year. It's always a bit sad around here to see them go (though most stay in touch), but I know the world will end up a better place because they're in it and working to change it. I can hardly wait for the next group of Fellows to arrive in a couple weeks.