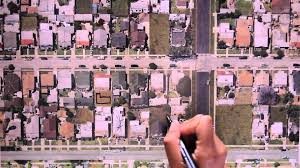 Hello all! I am Nicole Powell, and I am excited to join the environmental equity team here at the Greenlining Institute as a Summer Associate. I was born and raised in the Blair Hills area of Culver City, California, a community that sits across the street from the Inglewood Oil Field oil refinery. This summer I have the opportunity to advocate for AB 2722, a proposed law that can transform polluted California neighborhoods into healthy, thriving communities.
Lifting up historically marginalized communities through this project connects to the work I did as an undergraduate.
I graduated from Loyola Marymount University in May 2016 with a B.A. in Communication Studies and a minor in Journalism. As a student organizer, I focused on redistributing resources between institutions and communities, whether these resources be knowledge, culture, and/or wealth. I aimed to make academia accessible to my community by serving as president and founder of the student organization, Harambee. Harambee, Swahili for Coming Together, is a mentoring, political education, and college prep program that partners Loyola Marymount students with mentees at Westchester Enriched Sciences Magnet, a local high school. Through Harambee, I worked with other students to bring our cultural assets, values, and knowledge into the university space by organizing freedom schools and public salons. The Freedom Schools cultivate political education and create anti-racist coalitions through relationship building. The Freedom School restructures formal education by valuing the perspectives and knowledge of traditionally marginalized folks. The public salon, sponsored by Harambee, offered academic and community voices on how the prison industrial complex targets black women.
Outside of school, I gained multiple opportunities to learn about policy and advocacy. I learned by working at Californians United for a Responsible Budget (CURB), Children's Defense Fund-California, and Community Coalition. In these organizations, I could work directly in my community or similar communities to reclaim our valuable cultural and learning spaces, fight to divest from incarceration, support access to healthy food, and invest in education. Here, I realized that a California that prioritizes people over profit is possible – a vision I can help to advance as an Environmental Equity summer associate at Greenlining Institute.
I see my project as furthering the work I have already done towards restructuring and redistributing resources. AB 2722: Transformative Climate Communities, authored by Assemblymember Autumn Burke (D – Inglewood), is a bill now before the California Legislature designed to create a pool of grant money to fund sustainable community projects in neighborhoods impacted by pollution and poverty. The money will come from the Greenhouse Gas Reduction Fund, which directs money away from big polluters and towards disadvantaged communities that have faced the brunt of pollution and poverty. Passing AB 2722 will aid communities like mine, by offering opportunities to fund clean air projects, affordable housing, and transit.
AB 2722 will fund projects located in green zones — historically marginalized communities that have committed to environmentally equitable practices. California Environmental Justice Alliance (CEJA) defines green zones as a "place-based strategy that uses community-led solutions to transform areas overburdened by pollution into healthy thriving neighborhoods." In green zones, community members are empowered to create projects which multiple benefits like reduced greenhouse gas emissions, accessible transportation, affordable housing, and jobs.
I will overview two such projects: T.R.U.S.T. South LA and East Bay Rapid Transit. First, I will examine how effective these programs and organizations have been at improving transportation, creating valued cultural spaces, allowing families to own homes, lessening pollution, and decreasing greenhouse gas emissions. Next, I will explore how these projects can sustain their work, expand their programs, and reach even more people by gaining funding and partnerships from the AB 2722 Transformative Climate Communities grant.
T.RU.S.T. (Tenemos Que Reclamar y Unidos Salvar La Tierra; We Have to Claim and Unite to Save the Land) South LA works towards increasing community control over land and community development. T.R.U.S.T. South LA seeks to create community-led programs around issues of housing, transportation, community-building, and recreation. T.R.U.S.T. South LA's programs revolve around themes of maximizing mobility and recreation, and land stewardship. T.R.U.S.T. utilizes mapping to identify community assets: bike-friendly routes, food, and cultural spaces, in a participatory process that draws on community input to encourages bicycle use, and decrease dependence on greenhouse gas-emitting vehicles.
East Bay Rapid Transit (BRT), a joint project created by AC Transit and the East Bay community, improves transportation access by providing a bus line that operates like a light rail system. This project has multiple co-benefits in terms of community development, mobility, and greenhouse gas emission reduction. The BRT reduces emissions "by 1,900 tons per year by attracting more riders and with new, state-of-the-art hybrid buses," the system also saves "210,000 gallons of gas from being burned per year in Alameda County" (AC Transit). This transit option encourages biking, reduces greenhouse gas emissions, saves riders' time and money, and creates hundreds of jobs. To read a complete list of the benefits, please see the TransForm CA website.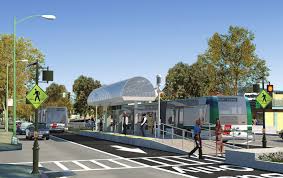 T.R.U.S.T. South LA and the East BRT are led, designed, implemented, and based in the community, allowing community members to work together to maintain their valued cultural spaces and build relationships. AB 2722 Transformative Climate Communities would use money paid by big polluters to invest in projects like these. I am glad to support a legislation that will give historically polluted areas like South LA, the East Bay, and my Blair Hills neighborhood increased access to clean air, mobility, affordable homes, and jobs.