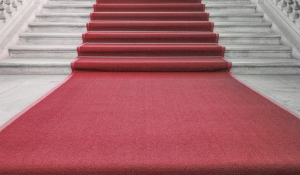 What do the Oscars, the Federal Reserve, and philanthropy all have in common? Apart from wielding tremendous power, the answer is simple: they're overwhelmingly white.
We've all seen the hashtag #OscarsSoWhite that took off in 2015 when not a single person of color was nominated for an acting award, and that reappeared when 2016 brought more of the same. Now, #FedSoWhite is making its way around social media as over 120 members of Congress have called attention to the fact that 100 percent of the Federal Reserve Board of Governors and the Federal Open Market Committee are white (and 60 percent are men).
In the world of philanthropy, made up of visionaries and people dedicated to the public good, many will surely respond angrily to these numbers, and rightly so. But before pointing fingers at other institutions, philanthropists should question their own. Recent data published by the D5 Coalition suggest that philanthropy could be next in line for a race-related hashtag: The last five years have seen virtually no increase in the number of people of color who hold staff and leadership positions at foundations, and little increase in the representation of women.
To compare: leadership at the Federal Reserve is 100 percent white. 89 percent of the Oscars voters are white. And white people make up 92 percent of foundation presidents/CEOs.
At this point, it's no secret: Philanthropy needs to diversify. This has become something of a hot-button issue in recent years. We've seen dozens of articles urging foundations to make changes, including the recent op-ed by Robert Ross, Luz Vega-Marquis, and Stephen Heintz. And a handful of foundations have demonstrated what is possible when they make diversity, equity, and inclusion organizational priorities. The California Endowment, one of the pioneers in these efforts, adopted a 15-part Diversity Plan in 2008, and since that year TCE has published three "Diversity Report Cards" to track its own progress. The San Francisco Foundation demonstrates its commitment to diversity in a number of ways, including investing in the talents of young professionals of color through the foundation's Multicultural Fellowship Program, opening pathways for them to enter the nonprofit and philanthropic sectors. The Ford Foundation has a whole page on its website declaring its commitment to promoting racial/ethnic equity and has a grants database that clearly denotes how much money the foundation has invested directly in communities of color.
And yet, despite this heightened awareness and the concerted efforts of a handful of organizations, diversity in philanthropy as a whole hasn't changed much.
Making philanthropy more diverse and inclusive should be a top priority for everyone, regardless of whether or not your foundation focuses on supporting communities of color. Here's why: While foundations remain predominantly white, the country does not. "Minorities" are very quickly becoming the majority. In fact, the federal government predicts that as early as 2044, people of color will outnumber whites. As Steve Phillips writes in his new book "Brown is the New White," every day the population of white people in the U.S. grows by 1,053 people, while the population of people of color grows by almost 7 times that number. People of color have gone from making up 20 percent of the nation's workforce in 2009 to 40 percent in 2014. In foundations, however, they still make up just 25 percent of staff, and 8 percent of CEOs. And bear in mind that most of the available foundation data comes from voluntary surveys, and foundations with higher diversity rates may be more likely to report their demographics than others.
This isn't just a numbers game. As Ruth McCambridge reminds us in her recent article for "Nonprofit Quarterly," "Lack of racial, ethnic, and gender diversity in philanthropy enlarges the understanding gap between philanthropy and the communities meant to be final beneficiaries." By not including more people who understand the experiences of communities of color in leadership positions, foundations put extra distance between themselves and these communities and can't know how best to serve them. We see it in the Oscars: the Motion Picture Academy is almost all white, and so are Oscar nominees. We see it in the Federal Reserve: Without a single black or Latino person leading, economic policies rarely take into account that these two groups are the most economically disenfranchised. And we see it in philanthropy: Less than 7 percent of grant dollars in 2013 went directly towards supporting communities of color. The ultimate goal isn't only to increase the number of people of color in the room, but to foster a culture that fundamentally values equity and inclusion.
Diana Campoamor and Vikki N. Spruill, veterans in the struggle to diversify philanthropy, recently wrote, "Few would argue that there has been too little discussion about making the sector look more like the people it serves. The real challenge has been to set in motion the measures that assure greater diversity throughout the sector."
Will it take #PhilanthropySoWhite taking off on social media to transform the sector? A group of people have championed this issue from within the world of philanthropy for years. It's no longer a question of awareness; it's a question of priorities. Of course, every foundation has its own vision and purpose, but the only way philanthropy will remain relevant is if it evolves with the times. That means being intentional about hiring more people from diverse backgrounds who can bring much-needed perspectives to the table; tracking the demographics of people who benefit from grant dollars; and being transparent about those numbers. It means building more coalitions of foundations that can hold each other accountable to high standards of transparency and inclusiveness, and learning from the inclusive practices already adopted by some foundations.
Ultimately, it's going to take a bigger push than anything we've seen before to transform the sector. Otherwise, philanthropy will become more and more out of touch with the people it seeks to serve, and it will become increasingly unable to address the needs of a rapidly changing America.