Climate Justice, for the Win!
You might have already heard about this year's historic policy wins for environmental justice and equity. My teammate, Emi Wang, called it a "monster year" for communities most impacted by poverty and pollution. California committed to "bold policies that protect our health and climate, and directly benefit environmental justice communities" according to our partners over at the California Environmental Justice Alliance.
The well-deserved acclaim continues.
California's Low Carbon Transportation Program (LCTP), Past and Present
As a clean transportation advocate working to bring EV benefits to all, I can't help but quote the great Aubrey Drake Graham. This year's California Climate Investments is a "started from the bottom now we're here" moment for low-income communities of color.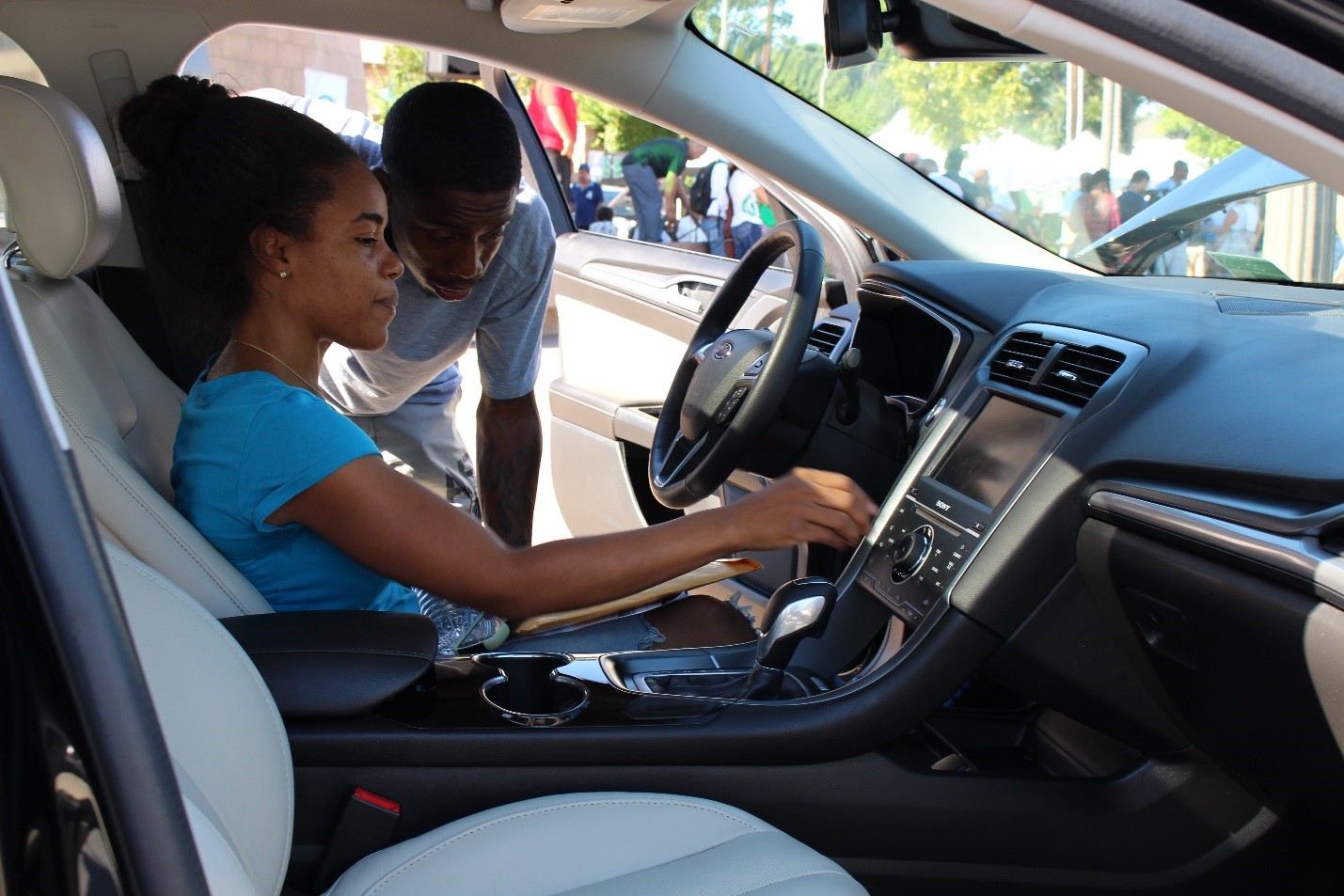 The California Air Resources Board (CARB) gets money from California's "polluters pay" model to pay for low carbon transportation projects and incentives that fight poverty, pollution, and climate change. This started in 2014. Since then, Greenlining, along with our Charge Ahead California campaign partners, has worked with CARB over the past three fiscal years to propose ambitious investment plans totaling $1 billion. The three years' worth of funding plans allocated $85 million for Charge Ahead California Initiative electric vehicle (EV) equity programs like low-income scrap-and-replace vouchers for new or used EVs and electric carsharing programs in disadvantaged communities. The goal: leverage polluter dollars to correct decades of environmental injustice in low-income communities of color and create economic opportunity through increased mobility, cost savings, and jobs.
Unfortunately, California's public health and most vulnerable communities were ripped off by politics dealing with the governor's special session on how to pay for roads and the future of cap-and-trade.
As of August 30, CARB received only $315 million of the $1 billion it asked for—a staggering $685 million shortfall between CARB's funding plans and what the legislature and governor appropriated. Charge Ahead California Initiative projects received only $16 million of the $85 million proposed to pilot and scale up programs that make EVs more accessible to low-income drivers.
This year, things are back on track. California approved $363 million for low carbon light-duty and heavy-duty investments—the biggest pot of its kind in the Golden State. EV access programs under the Charge Ahead California Initiative got $80 million, quintupling what they had received over the last two years. The table below breaks down CARB's proposal on how to spend the money.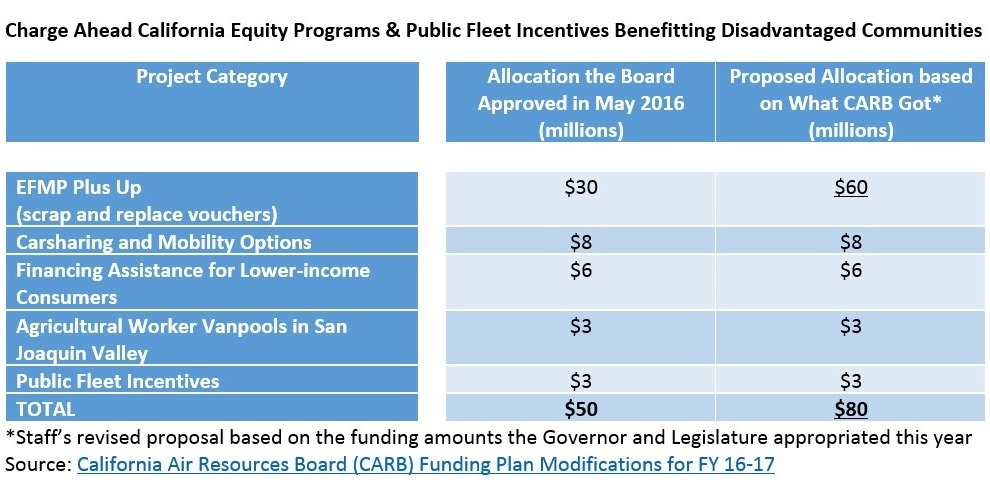 CARB's board will vote on this proposal on October 20.
Demand for these programs has run well ahead of available money. Earlier this year, the scrap-and-replace program serving southern California had over 1,000 unprocessed applications. In 2015, CARB received $19 million worth of proposals for carsharing projects in response to a $2.5 million call for proposals. As the number of new and used EVs and shared mobility services grow, demand for these equity programs will grow as well.
This year's legislative session also sent $133 million to the Clean Vehicle Rebate Project (CVRP), which provides EV rebates to consumers across the state who meet certain income levels—$97 million short of the $230 million CARB was hoping to get. Lawmakers also made changes to CVRP to stretch dollars that may be limited as a result of the cap-and-trade program's murky future and to respond to concerns that rebates went to some who didn't really need them. The table below shows these changes.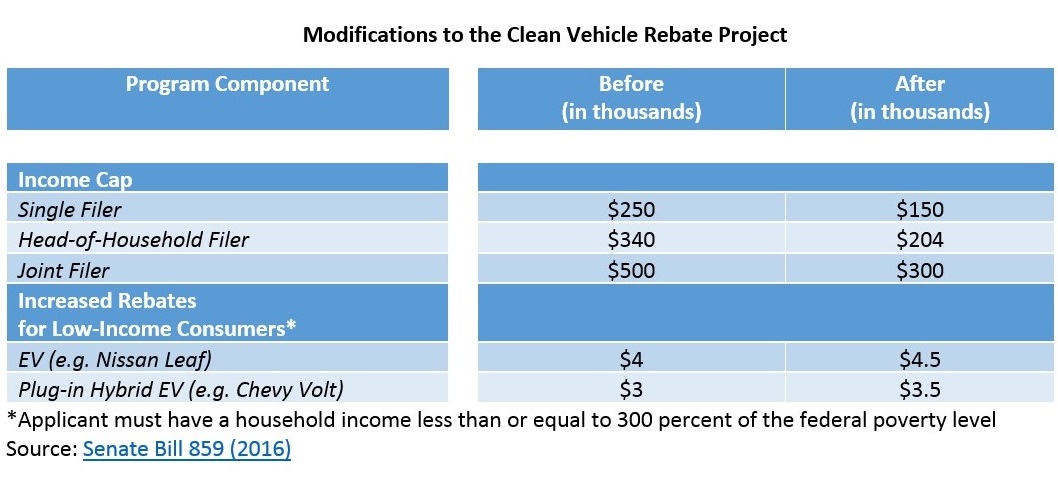 Legislators significantly reduced the income cap. Now, single individuals making more than $150,000 can't get a rebate.
Another change limits CVRP eligibility for plug-in hybrid EVs to vehicles with an electric range of at least 20 miles, ensuring more bang for our buck by maximizing electric vehicle miles traveled. All of these changes will take effect November 1.
But wait, there's more! Programs that help get more clean heavy-duty vehicles on the road scored some cash too, getting $150 million. This is great news, especially since these programs also experienced budget gaps that yielded only $100 million of the $418 million in CARB's funding plans. I'm particularly excited about this $150 million because that means cleaner air and jobs for communities hit hardest by poverty and heavy-duty vehicle pollution. In fact, over the past few months, we've been working with the Union of Concerned Scientists to investigate the benefits of electric buses and trucks in California and found great potential for equitable public health and job benefits (stay tuned for our joint report coming soon).
California delivered on EV equity this year—keep the dollars coming.
– – –
Please check out our toolkit for a look at tools, guides, tips, and resources that ensure low-income communities and communities of color benefit from the EV revolution and are not left behind.
For more information and real stories about how policies like the Charge Ahead California Initiative are benefiting underserved Californians visit UpliftCA.org.