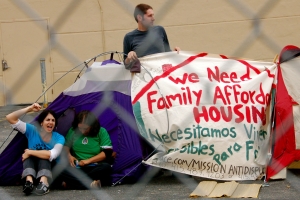 When first moving to the Bay Area, I was shocked by the number of tent cities I saw. They reminded me of sprawling refugee camps, inhabited by people who fled violence and destruction in war torn countries like Syria, where my family is from.  As a Syrian American, I know the refugee narrative all too well. Yet the tent cities made me aware that you can be a refugee in your own country, as the lack of affordable housing in the U.S. leaves many without a stable place to call home.
Lack of affordable housing is the number one reason low and middle income people are leaving the Bay Area. Fortunately, voters in some Bay Area communities will soon get a chance to start fixing this crisis.
The housing crisis is especially dire for communities of color, who continue to experience spikes in foreclosures, displacement and, homelessness – pricing and pushing out communities that have called the Bay Area home for decades.
Since 2011, gaps in wealth and income have disproportionately impacted residents of color who struggle to meet the 35% rent increases across Alameda County. These disparities worsen daily in Oakland.
For example, in 2000, median income for whites was 46% more than that of African Americans and 32% more than Latinos. By 2012 the gap increased to 57% for African Americans and 46% for Latinos.
Today in Alameda County, nearly 30% of very low income households and 73% of extremely low-income households spend more than half their incomes on rent.
Sadly, most California local governments fail to invest in solutions to fix this growing problem. For example, public spending on affordable housing in Alameda County decreased 68% since 2008. Oakland did not allocate any of its $540 million budget to housing and community development in fiscal year 2015-2016.
This November, Alameda County and Oakland voters can help fix the housing crisis at the polls. Two key ballot measures aim to improve the way we address housing. Measure A1, a $580 million Alameda County Housing Bond, includes assistance for both renters and homeowners. In Oakland, Measure JJ upgrades renters' protections and rights.
Measure A1 will expand rental housing and help prevent tenant displacement. It directly addresses the 60,000 unit shortage of affordable housing across Alameda County by supporting construction of up to 8,500 units of low cost rental housing. Measure A1 also gives low and middle income families opportunities to become homeowners by providing them with financial assistance, and it helps seniors and people with disabilities stay in their homes. Measure A1 funds will come from a tax on Alameda County property owners that costs on average $48-56 per year, less than $5 a month.
Measure JJ requires Oakland landlords to petition the city for rent increases over the Consumer Price Index, or 2%.  Currently, tenants must file complaints about unfair rent increases. This measure takes that burden off the shoulders of tenants and requires landlords to justify such rent hikes.
This protection is especially critical given the potential for more displacement and rent inflation in Oakland, where the arrival of large companies like Uber and Google will almost surely drive up pricing across the city.
Measure JJ also expands just cause eviction to an additional 12,000 units, meaning tenants can only be evicted from these units for legal reasons such as nonpayment or damaging the property. Without this protection, a landlord can evict tenants for any reason including to make more money renting to someone else.  Lastly, Measure JJ increases accountability by creating a publicly searchable online database to give tenants and organizations supporting them access to critical information.
Measure A1 and Measure JJ address critical housing issues in the Bay Area. In addition, these solutions bring help to vulnerable populations grappling with the worst housing challenges.
These ballot initiatives provide innovative, community-oriented solutions at a time when many Bay Area residents struggle with a basic human right: having a roof over your head.