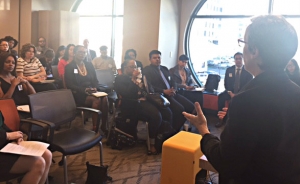 Homeownership helps families and individuals across America create and maintain wealth. When people own their homes, children perform better in school, communities are healthier, and families have financial stability to weather economic hardships. But as homeownership declines, America could become a renter nation, which is not sustainable for thriving communities. Therefore, we urgently need to revive a strong base of support for homeownership.
What does the homeownership landscape look like for people of color in Oakland and Alameda County? On Friday, November 4, community members and stakeholders came together for a closer look at this question.
Greenlining partnered with the Center for Responsible Lending to co-host a roundtable discussion and present research on home lending in Oakland and Alameda County. The conversation brought together homeownership champions across the private and public sectors as well as key community organizations and advocates.
Home lending data illustrates glaring disparities in race, ethnicity and income when it comes to accessing home loans. Low-income and minority borrowers are being disproportionately cut out of the mortgage market. For example, despite the reality that African Americans and Latinos make up 30% and a quarter of Oakland's population, respectively, the top 20 mortgage lenders in Oakland originated roughly 10% of mortgage loans to African Americans and 8% to Latinos between 2013 and 2015.
Equally troubling, we see national deposit banks divesting from homeownership across the board. To fill the gap, mortgage brokers and online lenders that, unlike banks, are not required to reinvest in communities increased their share of home lending, especially in the Oakland market.
Our attendees, armed with alarming data and years of housing expertise, brainstormed actionable solutions to increase homeownership access in Oakland and Alameda County. The discussion focused on key opportunities to increase homeownership like flexible mortgage products for low-income and minority borrowers, strategies to increase demand for borrowers of color, and innovative methods to spur homeownership.
Homeownership is an essential source of wealth and stability for the majority of Americans, especially for people of color. By convening nearly 40 homeownership champions, we united advocates who believe that homeownership is crucial for combating displacement and stabilizing communities. Now more than ever, community groups, banks, and governments must work together to build the pipeline to homeownership and ensure this key part of the American dream remains accessible to all.