Isolation. Emotional repression. Racism.
I faced these challenges growing up in Oklahoma City where I was often the only Latino and male of color in middle school and high school classrooms dominated by white students. Racist "jokes" were common and I never felt safe. I was lonely, and making hip hop tracks allowed me to express my emotions and begin the process of healing. Later in college, my undergraduate research, focusing on Latino males in higher education, found that my experiences and struggles strongly correlated with other Latino young men. During my time at Greenlining, I've come to understand the extent to which certain policies reinforced systemic barriers for Latino men, as well as for boys and young men of color (BMoC) across the country.
Two weeks ago, I participated in the Alliance for Boys and Men of Color Policy Summit to build a healthier and safer environment for BMoC across California. The Alliance for Boys and Men of Color is a statewide coalition with over 100 organization dedicated to improving educational, health, and economic conditions for BMoC, who comprise 70 percent of all California males under age 25. Over 100 grassroots organizers and policy advocates gathered for two days in Redondo Beach to set the coalition's 2017 policy priorities.
In planning for the upcoming year, Alliance members reflected on their 2016 priorities, which were: 1) ending criminalization of youth; 2) ensuring police reform and accountability; 3) advancing equitable school funding; 4) implementing Proposition 47 equitably; and, 5) promoting safe and successful schools. The successful passage of 2014's Proposition 47 reclassified non-violent offenses from felonies to misdemeanors. This was significant for BMoC, particularly African Americans and Latinos, because they are more likely than white men to be treated unjustly by the criminal justice system, live in poverty, suffer from trauma, and be unemployed.
I represented Greenlining at the summit, and I couldn't help but notice that discussions focused on improving the lives of people just like me – young men of color. The summit reaffirmed that BMoC including myself are not prone to being criminal, and instead are a systems-impacted community. In other words, institutions like schools, courts, and governmental organizations historically and disproportionately impact BMoC in all areas and perpetuate limited life outcomes.
I also had the privilege to facilitate a life outcomes discussion on the jobs and workforce for BMoC. The need to provide job opportunities for formerly incarcerated folks coming home proved to be a recurring theme. After a long, four hour working meeting, our workgroup conversed, drafted, and agreed on a couple of policy priorities. We voted to creating a tax credit to incentivize hiring of BMoC who face barriers to employment as one of our 2017 priorities.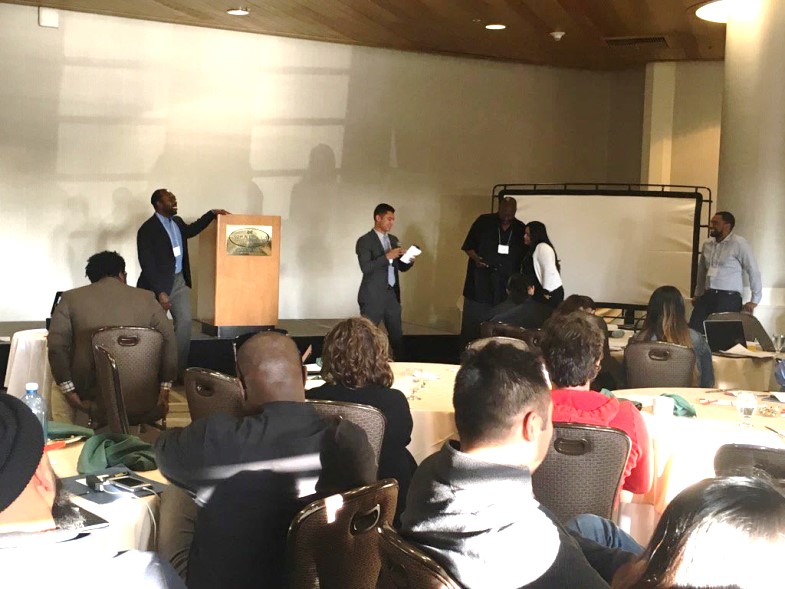 Another theme that recurred in our discussions: grassroots organizations deserve more respect, trust and support.
I will constantly ask myself how does my work at Greenlining support the work of community organizations in Oakland? The summit impacted my perspective not only as a policy advocate, but as a young man of color.
Five quotes that spoke out to me:
"Government must address trauma that it created."
"Embrace femininity. How feminine is your masculinity?"
 "ASK and GIVE space as men to women."
 "Our liberation is tied with our sisters. As the Alliance for BMoC, we MUST stand in solidarity with girls and women of color."
 "We stand on the side of hope, justice, & love. Where do you stand?"
At the beginning of the summit, I was not sure about the prospects of our work given the recent election. I felt a bit hopeless. Throughout the day, I was working on my healing process. I turned my pain into action. The energy from the summit refueled my fire to advocate on behalf of BMoC and communities of color. In the fight for racial justice, I know I am not alone.