Covered California, our state's health exchange under the Affordable Care Act, can now share stories of Californians who have benefited from health coverage, including Sarah from Los Angeles, who needed emergency brain surgery a month after enrolling. Without insurance, her medical bills would have been over $2 million, but thanks to her health coverage, her out-of-pocket expenses for surgery and rehabilitation only totaled $7,000. Sarah is one of thousands of California patients who benefitted from Covered California and received health care – from cancer treatments to organ transplants – in her time of need.
To help make sure Californians know about these opportunities,  a Covered California enrollment drive took place on January 23, 2016 at the Bayfair Center Mall in San Leandro, to provide East Bay residents information about California's health exchange plus in-person assistance in English, Spanish, and Cantonese. The event sought a very simple goal: help people #GetCovered.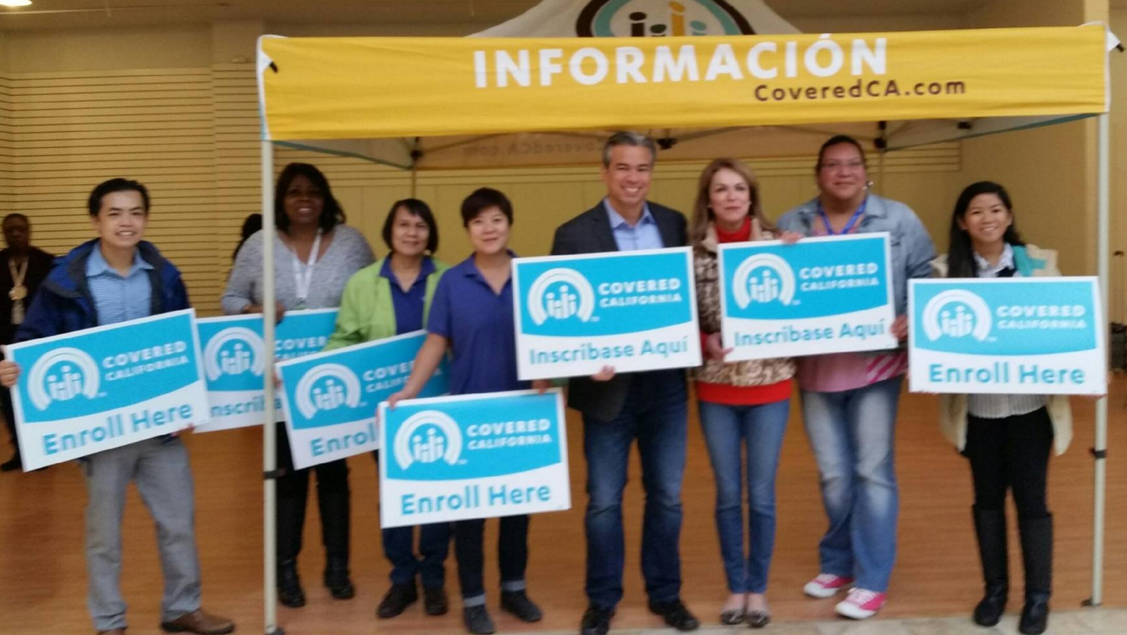 Organized by Assemblymember Rob Bonta (D-Oakland), this event was one of many throughout the state to make the final outreach push before the Covered California open enrollment deadline on Sunday, January 31st. As he spoke at the nearby farmer's market, Assemblymember Bonta emphasized the importance of getting the word out about Covered California because 134,000 uninsured Bay Area residents are eligible to receive subsidies to pay for coverage but haven't taken advantage of them.
One of the certified enrollment counselors at the event explained how much of a challenge it has been to convince the remaining uninsured that health coverage is a necessary safeguard and can be affordable. Purchasing health insurance will not only prevent a hefty penalty come tax season, but will also buy the peace of mind that you are protected from extreme financial hardship from a sudden medical emergency. However, for those who can afford insurance but continue to hold out from coverage, penalties have increased to $695 per adult or 2.5 percent of income, whichever is higher.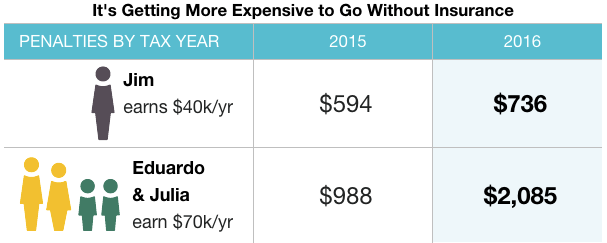 *2015 and 2016 amounts estimated using Affordable Care Act calculator: http://taxpolicycenter.org/taxfacts/acacalculator.cfm.
Covered California's third year of enrollment also brings in new changes and more choices to entice consumers to purchase health coverage. Two new health care plans, Oscar and UnitedHealth, will be offered in select areas of the state. Additionally, as of January 18, over 140,000 individuals have also now enrolled in dental insurance plans for 2016.
Check out Covered California's Shop and Compare Tool to find out if you qualify for subsidies. If you'd like in-person help to apply, there may be other Covered California enrollment events and storefronts near you.
As a former Certified Enrollment Counselor, I've been amazed to watch Covered California'ss growth since 2012. Now a health policy fellow at Greenlining, it was a great experience to put back on my community engagement hat at the enrollment event this past weekend. As Assemblymember Bonta addressed the community, he wrapped up with the phrase, "A healthy Bay Area is a strong Bay Area."
Our state will only truly thrive when access to affordable health care is no longer a barrier for low-income Californians and communities of color. So together let's make the final push for enrollment this week because a healthy California is a strong California.