I know one thing to be true, that all my career accolades or personal victories have been a result of opportunities sent to me by my mentors that guided me through an application process or opened the door to new career opportunities.
As a college student in Indiana I realized that for the kind of progressive infrastructure building and leadership development work I wanted to do, I would need a mentor who had that experience to guide me along the way. I had moved to America to pursue my own version of the American dream, a dream for a better world. But being in a handful of students of color on campus, I failed to find that community and mentorship that I needed.
In 2010, I met Calvin Williams. He was a trainer at the Young People For Fellowship's National Summit, and little did I know that we were about to strike up a lifelong friendship and I was about to gain the mentor I longed for. I was so thrilled to meet another mixed-race person who was able to overcome all the stigma and "model minority" myth to become an advocate for all people, people of color and young people. We spent the next four days in deep conversations about identity, mixed race families, mixed religious meals and our love for rice. Calvin made me feel normal, and not sticking out in a crowd like I had been on campus for so long.
These conversations soon turned into quarterly phone calls across the country and visiting Oakland or DC once or twice a year. With Calvin's mentorship, I felt understood: My voice was heard, my ideas upheld and my identity accepted. Sharing similar experiences with him made me feel like I wasn't ostracized or different. We shared the same passion for social justice, and Calvin identified opportunities for my growth and the work I wanted to do and send those opportunities my way.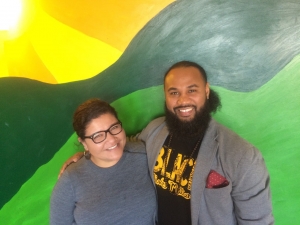 Last February, I visited Calvin and he introduced me to The Greenlining Institute's Leadership Academy, where I met the current director of the Leadership Academy, Patrick Brown & the former director of the Academy, Claudia Parades — and as they say, rest is history. I would credit my current position as the Casa Manager and my decision to move across the country to Calvin, but I know, every humble bone in his body will say it was all because of me.
My current role as manager of Casa Joaquin Murrieta allows me to further this passion of mentorship and develop young leaders. Casa J is a residential leadership program for first generation, low income, UC Berkeley undergraduate students that is run by The Greenlining institute's Leadership Academy. Each of the Casistas was given a mentor from the Greenlining staff or alumni community, intentionally paired with a progressive professional in a field of work they are interested in.
When I talk to Casistas, they can't help but be excited to be connected to people they can relate to. I cannot stress enough the importance of Casistas seeing their identities reflected in these successful people who excel in their fields. The confidence that they gain from meeting with their mentors, talking about their resilience and learning about new opportunities makes a refreshing addition to their competitive Berkeley schedule. The mentors play a valuable role in the leadership development by sharing their wisdom and guidance with the Casistas and reassuring them that they are not alone.
I believe that mentorship forms an essential part of leadership development, and as the Academy builds the leadership development pipeline, mentorship will play an important role. Mentorship invests in the growth of young people, and when the most vulnerable in our community grow, the entire community thrives.