I am often guilty of embodying a 21st century handyman: a friend opens up to me about a challenge, I listen for about 30-seconds, then devise a solution to all of their life's woes. Sleep problems? Read before bed. Stressed about school? Work out. Short on cash? Make a budget. It seems that the human capacity to devise solutions to other people's problems is limitless.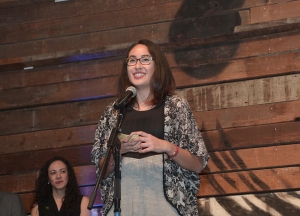 Despite the good intentions behind this practice, the pandemic of advice-giving, fix-it-quick solutions, and prescriptive recommendations does more harm than good. It disempowers people from becoming agents of their own change process. Instead of deeply exploring the complexities of a challenge, quick-fixes miss opportunities for growth. Granted, advice has a time and place (e.g. driving lessons), but it's less helpful during times of change, challenge, or emerging leadership, when people require more than a prescriptive fix.
I began learning and practicing coaching when I came to The Greenlining Institute in 2015. In the context of leadership development, coaching does not refer to counseling, deciding football plays or life-coaching. Initially taught to me as a management strategy, coaching entails asking open-ended questions and listening deeply to support a person in exploring their challenges and devising their own solutions and accountability. I am starting to view coaching as a transformative practice for leaders in social change efforts. Beyond promoting self-empowerment, coaching also helps our whole culture move away from prescriptive advice:
 "In [one] worldview, problems are identified, evaluated, and solutions are implemented, usually by outside experts. In contrast, coaches work with people from a resourceful point of view—collaborating to explore opportunities and identify resources to create an exciting future based on awareness, choice and action. Coaching is world-changing, as well as life-changing work." – Leadership That Works
There is nothing wrong with consulting experts. However, the institutions and norms where these "experts" and "solutions" come from are built on historically racialized worldviews. Today, formal education and media narratives often socialize people of color to disassociate from their own experiences and identities. This forces us to view ourselves through the ideals, traditions, and expertise of a dominant culture. As these dominant schools of thought become synonyms with 'expert,' all other forms of knowing become inferior. This can lead to internalized racism.
Through coaching participants in Greenlining's leadership programs, I have seen coaching uplift individuals' identities, encourage reflection of lived experiences, and empower people to view their own knowledge as a source of trusted wisdom. Through receiving coaching, I have realized how often I've tended to look outside of myself for answers, and how little trust I've put in my own knowledge and intuitions. Coaching is a potent leadership and racial equity tool because it supports a fundamental transformation in the way we view ourselves, and consequently, the ways we go about transforming the world.
In my time at Greenlining, I've been honored to coach participants in our Summer Associate and Fellowship programs—two of our training programs for emerging policy leaders. I am grateful for the opportunity to practice these vital skills, and thank organizations such as CompassPoint that help train leaders in coaching. As we proceed into 2017—and a potentially hostile political era for people of color—I hope that we continue to find ways to step into our own truths and power. Practices like coaching not only change lives, they can change the world.