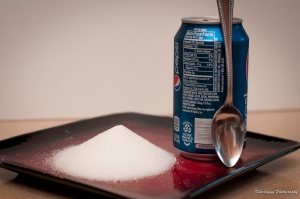 As a new Oakland resident, I notice a lot of tension about Measure HH – the proposed soda tax, similar to San Francisco's Prop. V and Albany's Measure O1 – and it's made me reflect about my family and childhood as a third generation Chicano from southeastern Los Angeles. My grandparents, who immigrated from Mexico, mainly consumed water, milk, and aguas frescas (juice made out of fresh fruit and sometimes flower, water, and a hint of sugar). In my generation, soda is replacing water. And that's not going to go down as easily – or smoothly.
Why so much soda? Because in my neighborhood, soda was cheap and accessible. But what effects does soda have on our bodies and communities?
During college, I attended a professional development conference and participated in a career-prep workshop led by a Pepsi representative. After the presentation, I asked the presenter what companies like Pepsi were doing to help communities combat the health risks associated with soda consumption?
Her answer: nothing.
The representative confessed that she drank little soda because she knew it's not good for her health, but big soda won't take responsibility for poisoning our communities with all that sugar. Soft drinks are the number one source of added sugar in the U.S. diet, and lead to health risks such as obesity, tooth decay, heart disease, type 2 diabetes, and others. The soda industry targets communities of color, particularly youth, through endorsements from popular athletes and hip hop artists (e.g. Sprite). Soda companies tend to leave out the fact that one in two African American and Latinx youth will develop type 2 diabetes; and soda contributes to this health crisis.
Since I live in Oakland, it's been impossible for me to watch a YouTube video without seeing a local ad about the proposed grocery tax and No on Measure HH campaign (just as San Francisco and Albany residents get bombarded with similar ads). Wait, I thought it's a soda tax? So which is it, a grocery tax or a soda tax?
I've done some research, and here are three things you should you know about Measure HH. While some details vary, these basic facts apply to Prop. V and Measure O1 as well:
1. Measure HH is a tax on soda distributors, not on groceries
Measure HH states that it will institute "a 1 percent per ounce tax on the distribution of sugar-sweetened beverages, including products such as sodas, sports drinks, sweetened teas, energy drinks" and excludes products such as milk, 100 percent juice, baby formula, diet drinks. It exempts small businesses whose annual gross sales are less than $100,000.
Last month, the soda industry sued the City of Oakland and lost in court. Alameda County Court ruled that the soda tax is only a tax on soda—not on groceries.
2. Follow the Money: The No on Measure HH campaign is heavily funded by the soda industry
The No on Measure HH campaign is actively telling voters that the soda tax is a grocery tax. This is a lie. Pepsi, Coca Cola, Red Bull, Sunny Delight, and Dr. Pepper have already poured nearly $4 million into the No on Measure HH campaign, enough money to lie and mislead Oakland families and small businesses about the proposed tax. They've done the same in San Francisco and Albany.
Since 2009, big soda has spent $67 million to fight soda taxes and health warning labels on their products. Worse, they've tokenized and exploited small business owners of color in their advertisements, some of whom have already regretted participating in the "no" campaign.
3. Potential Benefits of a Soda Tax
Berkeley was the first city to pass a soda tax, and already sees benefits. Months after passage, low-income communities of color in Berkeley have cut their soda consumption by 21 percent and have seen a 63 percent increase in water consumption. During the same time, Oakland saw a four percent increase in soda consumption.
This past January, Berkeley allocated $1.5 million in soda tax revenue to community nutritional and education programs. By passing the soda tax, Oakland can generate as much as $6 million, which will similarly go to fighting soda consumption and fund health education and youth programs. Here at The Greenlining Institute, we endorse Measure HH because it provides for upstream investments to build a healthier Oakland.
Given the success in Berkeley, big soda is using fear to mislead voters in Oakland, San Francisco and Albany. Alternatively, the World Health Organization (WHO) is pushing for every nation to tax soda. If you are eligible and registered to vote in these cities, you have the opportunity to combat the lies and damage that big soda has spread among our communities.
Remember to register to vote by October 24. On November 8, Vote Yes on Measure HH to tell the soda industry you are sick of them prioritizing profit over people's health.