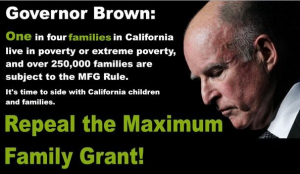 Dear Governor Jerry Brown,
California has the opportunity to remove one of the state's most discriminatory laws. The Greenlining Institute strongly urges you to support Senate Bill 23 (Mitchell), which seeks to repeal the Maximum Family Grant, or "family cap" policy: an outdated rule that punishes primarily low-income mothers of color and their families for having children. Most of all, it punishes kids for being born poor. The California Work Opportunity and Responsibility to Kids (CalWORKs) Maximum Family Grant rule is a failed social experiment passed in 1994 that denies government aid to children born into impoverished families who already receive aid for another child. If a family has received aid for the ten months prior to the birth of a child, that family is not eligible for an increase in aid unless the mother can prove the child was a product of rape, incest, or contraceptive failure – meaning that she must reveal sensitive, personal and sometimes traumatizing experiences in the process.
More than one out of four children in California lives in poverty, the worst rate in the entire nation. Black, Native American, and Latino children are roughly three times as likely as white children to be born into poverty. Allowing low-income families and communities of color to build assets is key to escaping poverty and reducing the racial wealth gap. Unfortunately, policies like the Maximum Family Grant rule redline resources from vulnerable communities, allowing families to slide deeper into the vicious cycle of poverty.
In 2013, The Greenlining Institute published a blog on the disproportionate impact the Maximum Family Grant rule has on women of color and their families. Statewide advocates like the Women's Foundation of California, the ACLU of Northern California, and the Children's Defense Fund, have likewise spoken out against the damaging impact of this rule on our most vulnerable populations. Two years later, however, this law is still painfully in effect. Family cap policies are based on unfounded assumptions that governments can decrease poverty levels by controlling the reproductive and familial choices of parents living in poverty through threats of economic hardship. Even worse, these policies mask an ugly, oppressive history.
The Maximum Family Grant rule stems from in the imagery of the "welfare queen" – a black woman who drove a Cadillac, got rich off social safety nets, and had children purely to collect more welfare money. Popularized by Ronald Reagan and other conservative leaders, the "welfare queen" summarizes the most vile stereotypes of poor Black people: lazy, fiscally irresponsible, unable to care for their children, and freeloading off government welfare systems.
First, we must abolish the "welfare queen" narrative. Simply put, it's racist, sexist, and completely untrue. Melissa Ortiz, a mother of four with two children punished by the CalWORKs Maximum Family Grant rule, stated the following: "[People] think you are less of a mom and that you are a bad mom if you choose to bring children into the world when you are poor. Even more insulting is the idea that poor women like me are controlled by money more than we are liberated by our emotions, experience, and sense of knowing what is right for our families."
It's insulting to assume that a mother would give birth to a child just to receive a $128 check every month, the most a family could receive if Maximum Family Grant policy did not exist. Furthermore, family cap rules fail at their intended purpose, doing nothing but punishing California's most disadvantaged communities and widening the racial wealth gap.
According to the California Budget & Policy Center, a single parent of two receiving CalWORKs grants for both children exists in "deep poverty," with roughly $704 a month to support the family. When one child does not receive aid because of the Maximum Family Grant rule, the family's monthly income drops to just $535. Family cap policies only punish poor families who already have significant barriers to economic stability.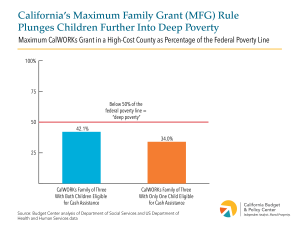 Perhaps most egregious, Maximum Family Grant policies have been proven to increase poor health amongst children living in poverty. Children born to families whose welfare benefits have been terminated or reduced by sanctions are ninety percent more likely to be hospitalized and fifty percent more likely to have limited or uncertain access to adequate food.  Because most CalWORKs recipients are eligible to receive Medi-Cal benefits, costly medical fees will place a large financial burden on families and the state.
Considering that the overwhelming majority of women impacted by the Maximum Family Grant rule are women of color – 54.7 percent Latina, 22.1 percent Asian, and 17.4 percent Black – this policy disproportionately inhibits asset building amongst low-income families of color, places unfair burdens on the health of low-income children, and widens the racial wealth and health gap. We must put an end to this policy.
Governor Brown, lawmakers across the political spectrum have overwhelmingly supported the repeal of the Maximum Family Grant rule, now it is up to you to stand in solidarity with children and families living in poverty in California.
Will you?
With hope,
Kerry Sakimoto
Health Policy Fellow
The Greenlining Institute