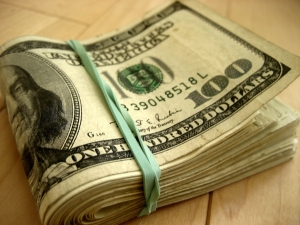 Organizations that represent communities facing discrimination or other mistreatment face a constant struggle: How do we raise enough money to have a meaningful voice without letting our agenda be hijacked by those who can write big checks?
We and other organizations (at least those with a conscience) struggle with that question all the time, and I'd never claim the choices are easy. What follows is the story of one group – one I personally wish I could support – that appears to have gotten it spectacularly wrong in the context of a current political campaign.
Here at Greenlining, we've long been concerned about the intersection of money and politics. As an organization that works on behalf of communities of color and low income folks who generally tend to be less able to "pay to play," we often find ourselves opposing moneyed interests. For example, we strongly support consumer protection for telecommunications customers and guaranteed access to affordable broadband. AT&T, which tends not to like regulations that cost it money, just gave $70,000 to Congress's deregulator-in-chief, Paul Ryan. No doubt it's sheer coincidence that telecom deregulation is a top Ryan priority.
I could give a hundred more examples. But AT&T is a business; we expect it to support policies that enhance its profits. We don't expect purported community advocates to advance corporate interests that might harm their constituents.
As a member of California's LGBT community, I need Equality California, the major state-level LGBT advocacy group, to speak for me. Instead, Equality California's political action committee has taken hundreds of thousands of dollars from the California Apartment Association, the California Association of Realtors and other business and corporate interests, and appears to be using that money in a way that has very little to do with LGBT community interests and a lot to do with the interests of landlords and developers.
The amount of money being raised and spent by the Equality California PAC this election cycle is more than double what the group has spent in any recent election. And the majority of it – including a $340,000 ad buy recently reported in the San Francisco Chronicle – is going to attack San Francisco Supervisor Jane Kim, a candidate for the state Senate in the district representing San Francisco and the northern end of San Mateo County.
I need to pause here for a couple important disclaimers: We know Jane Kim, who was a Fellow in our Leadership Academy many years ago. But Greenlining is nonpartisan, so we're not endorsing her or anyone else in this race, and nothing I'm saying is meant to imply support for or opposition to anyone. But there's a principle at work here that's bigger than any individual election contest.
San Francisco and the greater Bay Area are in the throes of a massive housing affordability crisis, a crisis that directly impacts LGBT residents. Surveys have found that LGBT homeless make up 20 percent of San Francisco's overall homeless population and half of the city's homeless youth. Kim has pushed aggressively for stricter affordable housing requirements. Cleve Jones, founder of the AIDS Quilt and protégé of San Francisco's first openly gay elected official, Harvey Milk, wrote recently, "At this point in our history –  for LGBT San Franciscans –  the most important issue is housing."
Reasonable people can agree or disagree with Kim's policy proposals on housing, but it's beyond question that developer, landlord and real estate interests have a financial self-interest in opposing them. To take hundreds of thousands of dollars from these groups and immediately put a similarly huge amount of money into a campaign that appears to enhance those financial interests creates the appearance – at the very least – of having been bought off.
Equality California's executive director has justified the ad campaign based on the fact that Kim's opponent is gay, but again, the organization has never put this kind of money behind any LGBT candidate for any office, anywhere. It sure looks like the group's stated reason doesn't tell the whole story.
I can't read anyone's minds here, so I can't say positively what's going on. But I can say that those of us who seek to represent communities facing inequality or discrimination need to avoid even the appearance that we're bought and paid for by commercial interests.