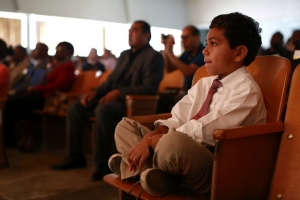 Last summer, President Obama signed the Workforce Innovation and Opportunity Act (WIOA), intended to increase job opportunities for those facing barriers to employment and to invest in education, skills development, and career preparation. Now we all have a chance to have a voice in how that law will be implemented here.
California's Workforce Development Board recently announced the WIOA Strategic Workforce Development Plan, California's proposed implementation of WIOA at the state and local levels. While WIOA promises to strengthen job opportunities and financial security, these benefits must be distributed equitably by prioritizing the needs of underserved communities.
Boys and men of color (BMoC), who make up 70 percent of males age 24 or younger in California, face unsolved challenges to educational success and stable employment. While the current statewide unemployment rate lingers around 6.3 percent, Black and Latino men experience unemployment rates of 17.8 percent and 12.1 percent, respectively. Black men are more than 88 percent more likely to be unemployed than their white counterparts.
As a member of the Alliance for Boys and Men of Color, Greenlining stands in solidarity with communities that continue to face institutional barriers to economic security and shared prosperity. We have submitted a formal letter to the Workforce Development Board, proposing the following recommendations:
The California Workforce Development Board should define and target disadvantaged populations who face significant barriers to employment. In addition to the need for prioritizing BMoC, girls and women of color, disabled youth, and disconnected youth face distinct challenges to economic prosperity that require strategic, collaborative interventions.
California should include youth representation at the local and state levels. Young people, particularly youth of color, are the foremost experts at identifying barriers and challenges that they continue to experience daily. If WIOA intends to promote shared economic prosperity, it should put front and center the voices of young people, who have the largest stake in our future economy. This will also create a pipeline to empower youth from diverse backgrounds to take on decision-making positions.\
State and local implementation of WIOA should work to fully engage the community in order to create a robust dialogue that is fully informed by the populations that would benefit most from successful WIOA implementation. In order to tap into community expertise, the state should work to create a clear understanding of the state's plan and the implications on local and regional levels.
The Workforce development board is currently hosting public input forums throughout California. Please consider attending one of the following meetings:
December 14, 2015
Greater Bay Area [North Bay, East Bay, Bay-Peninsula]
Host: Alameda WDB
Eden Multi Service Center
24100 Amador Street, Hayward, CA 94544
1:00 – 4:00 PM
December 15, 2015
Central Coast
Host: Monterey WDB
Trackview Pavilion at Laguna Seca
1025 Monterey, Hwy. 68, Salinas, CA 93908
9:30 AM to 12:30 PM
December 18, 2015
Boarder Region / Inland Empire
Host: San Bernardino WDB
Workforce Development Department – San Bernardino County
290 N D Street, Suite 600, San Bernardino, CA 92401
9:00 AM – 12:00PM
For those who are unable to attend, the state's plan is available for public comments and input through January 2nd, 2016. Just click the link above to see the plan and submit written comments.  However you do it, I hope you'll take this opportunity for communities to substantively impact the implementation of WIOA and workforce development dollars.
Public comments should be headed "WIOA State Plan Comments" and submitted to:
Email: CWDBinfo@CWDB.ca.gov
800 Capitol Mall, Suite 1022
Sacramento, CA 95814
 
Fax: (916) 657-1381.
 
Greenlining will attend the WIOA public input forum in the Greater Bay Area on December 14. We hope to see you all there as we strive towards greater equity and inclusion in building California's new economy.