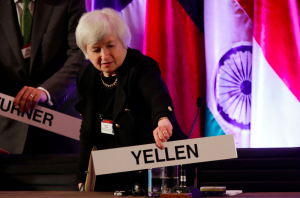 Riddle me this– what do the interest rate and diversity have to do with one another?  (See end of post for answer key.)
At Greenlining we're big fans of diversity. No, not "diversity" in the sense of those sappy posters you find in human resource offices. We advocate for diversity to be utilized as a decision making tool to check blind spots in policymaking. In other words, we push for more decision-makers that are reflective of diverse communities– and for them to use their lived experiences to make informed choices.
Back in 2014, folks started talking about this concept when Dr. Janet Yellen made history, and was announced the first woman to chair the Federal Reserve System. Many stakeholders, including Greenlining, celebrated the appointment of a diverse regulator who's championed asset opportunities in low-income markets and communities of color throughout her career.
Shortly after sharing out Greenlining's take on the appointment, I remember getting a few variations of the following question. "It's great to see more diversity in leadership, and that she cares about issues of inequality, but what can she actually do about it as Chair of the Fed?"
Fair point. Even though the Fed's decisions affect everything from the cost of loans, to job availability, to the value of money, it really only has one tool at its disposal– the interest rate (or cost of borrowing money). How can Chair Yellen possibly use this blunt tool to address struggling communities that are usually left behind? She just did.
On September 17th the Federal Open Market Committee, folks that the Chair leads to make policy decisions, made global headlines by announcing that the Fed would continue to keep interest rates low, for now. Yellen took the helm of the Fed just as the economy entered its fifth year of recovery. Many economists, including her predecessor Ben Bernanke, speculated early on in her term that she would hike the interest rate. Fellow FOMC member President Jeff Lacker of the Richmond Federal Reserve recently gave a speech on the case against further delay, and industry has even gone so far as to call the decision "[chickening] out".
Aggregate statistics on the economy's performance may support these criticisms, but a quick look at demographic data clearly shows that communities of color and low-income communities are struggling. A steady interest rate equates to continued access to affordable loans and credit our communities can use to help build their own version of the American Dream. In a recent New York Times Article William Spriggs, Chief Economist for the A.F.L.-C.I.O., also explained that it promotes employment among people of color because a low interest rate makes discrimination more expensive in the labor market.
"I think the data are rather clear that it takes a while for employers to expand outside their natural networks and reach black workers and bring their unemployment rates down," Mr. Spriggs said. "If we stay the course, we will get to a point at which firms are willing to do more to find workers."
Disclaimer: Chair Yellen has not explicitly cited these benefits as the motivator of her decision to keep the interest rate low (although, judging from her past it's not hard to connect the dots). In fact, she hasn't really said much on her decision. She's been so silent that people are taking notice, after all, it is a large responsibility of her job it to communicate to the public.
I have a theory. The last two times the Chair went before Congress to give updates, she was picked apart by Republicans for being "political" because she acknowledges the very real economic dangers of inequality. (Read my February 25th rant for more detail.)
Sometimes it seems like a cruel game. Too often, diverse leaders are pressured to "tone down" the rhetoric of valuable perspectives they bring to their roles– or they risk being pigeonholed or having "special interests". (Just think about Barack Obama's notorious 2008 speech on race compared to his messaging now.)
We need more regulators like Yellen that are in touch with our communities and willing to walk the talk; we also need to hold all decision-makers accountable to serving this increasingly diverse America. Later this month Greenlining's coalition will travel to Washington, D.C. to meet with the financial agency leaders, including the Federal Reserve Board of Governors. We will provide critical feedback on how their policies impact communities of color, and hope to collaborate using our shared expertise. I'm happy to know at least one agency will understand why diversity is so critical. Check this space for updates.
Answer to Riddle: Everything. People solve the problems they see. People of color will be the majority in this country by 2050, and our economic health will shape the entire economy. Regulators can't afford to continue business as usual.