Today Governor Brown signed into law the Clean Energy and Pollution Reduction Act of 2015, also known as SB 350. This landmark bill sets transformative targets and policies that will get California to 50 percent renewable energy, double statewide energy efficiency savings, and promote the mass adoption of electric vehicles on California's roads, all by the year 2030. SB 350 and supporting policies mark a transition away from a fossil fuel economy and toward a clean energy economy in California.
On their own, these targets will result in cleaner air, lower electricity bills, and less trips to the pump for Californians. Beyond this, however, the following bullet points summarize the key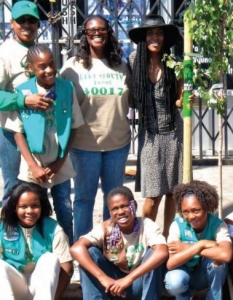 mandates in SB 350 that will ensure California's transition away from fossil fuels does not leave communities of color behind.
Jobs and Workforce | The clean energy economy is already creating a more diverse workforce than the fossil fuel economy, and thanks to SB 350 – this trend will increase significantly. You will find no equivalent job and workforce diversity requirements in the fossil fuel industry.
Identify barriers to contracting opportunities for local small businesses in disadvantaged communities.
Uplift workforce development and job training for residents in disadvantaged communities, including minorities, veterans, women, at-risk youth, and members of the state and local community conservation corps.
Transparency and Data | The public is now able to see the progress and impacts of our clean energy goals and how these goals are impacting and benefiting underserved communities. SB 350 also provides a governance structure that uplifts the voice of underserved communities.
Study the barriers to increasing renewable energy, energy efficiency, zero- and near zero-emission technologies in low-income communities.
Establish a publicly available tracking system to provide up-to-date information on progress toward meeting the goals under SB 350.
Establish an advisory group consisting of representatives from disadvantaged communities charged with determining whether clean energy and pollution reduction programs will be effective and useful in disadvantaged communities.
Increasing Access to Clean Technologies | SB 350 prioritizes the mass adoption of clean energy technologies within underserved communities.
Set forth strategies and recommendations on how to increase access to energy efficiency, weatherization, and zero- and near zero-emission technologies within low-income communities.
Take into account the use of distributed generation to the extent that it provides economic and environmental benefits in disadvantaged communities.
Minimizing Air Pollutants in Disadvantaged Communities | SB 350 prioritizes cleaning up the air in communities hit first and worst with pollution.
Utilities are required to plan to minimize localized air pollutants and other greenhouse gas emissions, with early priority on disadvantaged communities.
The environmental justice and equity movement saw additional wins this recent legislative session, including AB 693: a bill that will bring solar power to low-income communities who are often last to benefit from green investments.
With these wins, it is critical to point to the need for a targeted and mandated focus on maximizing the economic and health co-benefits in underserved communities. Specifically, there is a need for increased direct investments in underserved communities, stronger anti-displacement strategies, increased outreach to and engagement with communities of color, stronger supplier and workforce diversity policies, continued transparency and data on the progress of increasing clean energy technologies in underserved communities, and more local emissions reductions in communities of color. Finally, of critical importance is how the legislature and the Brown Administration will allocate billions of dollars in cap-and-trade revenue and whether the state continues to prioritize equity.
Greenlining and allies look forward to advocating for these equity priorities in future legislative and regulatory sessions. For now, we celebrate the environmental equity successes signed into law today by Governor Brown.