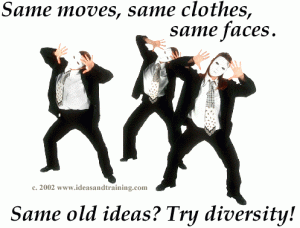 Same moves, same faces, same old ideas ─that about sums up the debates around the Community Reinvestment Act (CRA) over the last 20 years. Yet last week, at the National Community Reinvestment Coalition Annual Conference, I had the pleasure of bringing something new and "out of the box" to the discussion: Try diversity!
CRA is a vitally important law that needs improvements. But first, a little background:
The CRA is critical to the story of how people of color gained economic mobility in the US. Sad to believe, but ten years before the act passed, it was actually legal for banks and other companies to refuse to extend credit based on one's race or zip code—a practice known as redlining. As the daughter of a black woman born in the Deep South at the height of the civil rights movement, I know its value.
Now, the CRA addresses some essential things: it encourages banks to help low-and-moderate income people and neighborhoods access credit; examines a banks' performance in meeting these needs; and consider their performance when expanding or closing branches. But many advocates agree it's far from perfect. One of its key shortfalls—it fails to acknowledge the role that race plays in discrimination! In many ways, this prevents examiners from addressing its original intent of redlining.
Consumers of color continue to be unfairly served by financial institutions, stripping trillions of dollars from our wealth potential. We see this in everything from auto loans to subprime mortgages. Greenlining and other advocates have long encouraged regulators to use CRA to specifically examine lending, services, and investments in minority census tracts and to consumers of color. To date, regulators haven't moved on this, partly because they question whether they have the authority to do so, or whether Congress has to change the law first.
While I think regulators have the authority to consider race and ethnicity, they can take two actions immediately to incorporate people of color into CRA:
Diversify the pool of examiners that conduct CRA evaluations.
Include demographic data broken down by race and ethnicity within the community analysis created for each CRA exam.
We see a strong connection between diversity and improved decision making, policies, and products for the nation's growing population of color. Our nation's economy cannot prosper if communities of color do not prosper, especially in the financial services sector.  Even Chair Yellen of the Federal Reserve is connecting the dots between diversity and more effective policy-making (check out our blog about this):
"…there has been a fair amount of public debate in recent years about the health of the economics profession, prompted in part by the failure of many economists to comprehend the dire threats and foresee the damage of the financial crisis. When the public asks whether economists did all they could have to understand those threats, in part they are asking whether our profession did enough over the years to test ideas and assumptions that turned out in some cases to have been mistaken or misplaced. And part of that question is this one: Did the economics profession recruit and promote the individuals best able to bring the energy, the fresh insights, and the renewal that every field and every body of knowledge needs to remain healthy?"
To answer her question: No.  And this dynamic holds true within many financial sector jobs, especially bank examiners.
In 2013, white men and women represented 73% of financial institution examiners. This number is even worse at the FDIC, where 82% of examiners are white. This is especially troubling since examiners are the FDIC's largest job category and where most of its executives start.
The impact of race doesn't just stop there. Diversity also affects CRA examinations. Two areas stand out:  setting the performance context and connecting with the community on their experience with banks being examined.
Examiners set the framework for how to measure a bank's CRA responsiveness through the performance context. It includes a range of economic, demographic, institution, and community-specific information, but this analysis currently includes no race or ethnic data. That should change. Separating out all the economic and demographic data by race and ethnicity can help highlight the glaring gaps in access to credit for consumers of color, and truly measure the needs of the nation's growing majority.
Examiners also have discretion to contact community members and groups to gauge their perception of how a bank has met the credit and financial services needs of its community ─a tool that is significantly underutilized. Examiners determine whether a bank's performance meets these needs by considering a number of factors, most of which should only be answered by consumers, yet they request and receive most of their information from the bank itself. Regulators honestly admit that public feedback and comments on individual bank CRA exams almost never happen.
The examiners' current toolbox for evaluating a bank's CRA performance is incomplete. What if examiners better reflected the community they're researching? If examiners actually connected to communities, if they understood our communities, they might have a better sense of the community's needs and how banks can meet those needs.
Regulators can quickly press play on each of these recommendations. CRA was intended to end redlining. Since the onset of the recent financial crisis and subsequent recession, we have witnessed an unprecedented loss of wealth in communities of color – generated largely by the massive loss of home equity, largely due to the disproportionate targeting of predatory loans to people of color.
The recent crisis, the countless fair lending violations, buybacks, and settlements should make it clear that some financial institutions still practice redlining in more ways than one. For this reason alone CRA must have better eyes on how banks serve all markets, especially communities of color. Decision-makers who make the call on whether banks adequately serve our communities must reflect and understand the communities these banks must serve.
We cannot have a "safe and sound" banking system, and therefore a healthy economy, without a robust and intentional diversity strategy. So regulators, it's time for new moves, new faces, and new ideas: TRY DIVERSITY!