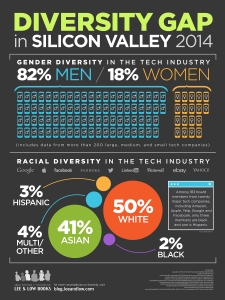 The tech industry knows it has a problem with diversity. Representation of  Blacks, Latino/as, and Native People at leading companies unfortunately fluctuates between zero and seven percent — not at all representative of the U.S.'s shifting racial demographics. The companies have even said this is a problem, but what are they doing about it? This summer, I'm trying to find out.
I am conducting an assessment of the diversity and inclusion initiatives, workforce diversity, and supplier diversity, at 11 of the nation's leading technology companies: Google, Intel, HP, Apple, Facebook, LinkedIn, Twitter, Square, Lyft, Uber, and Pandora. As racial equity advocates, Greenlining doesn't want to shame companies on their lack of diversity, but seeks to collaborate with them on how to effectively engage communities of color. We encourage representatives from Google, Apple, HP, Intel, Facebook, Twitter, Square, Uber, and Pandora to have a conversation with us.
So far, though, most of them don't seem to want to talk.
After describing my project to friends, a lot of them responded with an inquisitive look followed by, "How are you going to get them to do that?" and a skeptical wish of good luck. The underlying question that I hear is, "How are you going to get these predominantly white and rich companies to invest in the success of people of color?" Initially, I was excited to see articles about most of these companies wanting to improve diversity, but to my dismay it's been hard to get in contact with representatives from the companies.
According to the U.S. Census Bureau, by the year 2044, people of color will be the majority of the U.S. population, with Blacks and Latino/as among the fastest growing groups and yet the most underrepresented in tech.
Now more than ever, the tech industry is booming with new products and services that create a high demand of jobs. We all know that the tech sector is filled with some of the brightest and most innovative thinkers. So, what are their action steps to ameliorating the racial gap in tech? We need to increase diversity and inclusion in the tech industry:
To make the tech industry more representative of the rapidly changing demographics of the U.S., as the U.S leads towards a majority minority population
Because stable jobs provided by the booming tech industry can decrease the widening racial wealth gap
Because workforce diversity successfully reaches markets at home and abroad
Because diverse teams accelerate the design of products and services that meet the needs of diverse customers
Because internal diversity creates cultural intelligence, while promoting social equity
So far, I've been able to conduct interviews with just two companies, Lyft and LinkedIn. I have yet to receive affirmative responses to my requests for interviews from Google, Intel, HP, Apple, Facebook, Twitter, Square, Uber, and Pandora. I look forward to the opportunity to speak to them, as they have all publicly committed to increasing diversity. With the U.S.'s shifting racial demographic of majority minority, it behooves both the tech companies and economy by increasing diversity and inclusion in the ever growing tech industry.