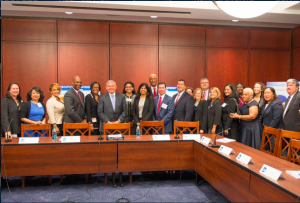 It isn't often that Jersey girls like me get to brag about the ole' Garden State, but today I'm jazzed to blog that NJ's own Senator Bob Menendez released an incredible 3rd Annual Corporate Diversity Report.  "Incredible" may sound like a generous term when it comes to survey results, but if you care about equity or economic development, you'll soon get why this is a big deal.
Unprompted by law or regulation, the senator annually surveys the top U.S. companies on their diversity practices with respect to women and people of color. A member of the Senate Banking Committee and chair of the Senate's Hispanic Task Force, he has long understood and advocated that diversity is a 21st century necessity for business. Done right, it's a tool that allows decision makers to recognize and strategically place diverse talent in roles that can positively affect company outcomes, tap into new market spaces, and opens up entirely new possibilities for what products and contracts companies can produce.
The 70+ page report, in a plethora of different measures, shows how corporate leaders invest in their diverse workforces and vendors. Long story short—most don't. Here are a few highlights from the report:
People of color represent 18.3% of Fortune 100 companies' board of directors; women of color represent just 4.2% of directors.
People of color represent 12.1% of executive team members. Latinos represent only 2.9%, African Americans represent 4.7%, Asian Americans represent 4.2% and Native Americans represent 0.2%, respectively.
Minority-owned firms received just 4.8% of all contracting dollars with Fortune 100 companies. Broken down by ethnicity—Latino-owned businesses received 0.9% of dollars, black-owned businesses received 1.5%, Asian American owned-businesses received 1.7%, and Native American owned-businesses received 0.2% of all contract dollars.
As if the survey results weren't disappointing enough, 31 companies of the Fortune 100 chose not to participate in the study despite their leadership in corporate America and their diverse consumer base. This lack of engagement is especially concerning, considering that the report aggregated all data (i.e. didn't single companies out) and that the senator's office reached out to companies multiple times. The refusal of companies to contribute to this study, particularly those that claim to prioritize diversity — Amazon, Apple, and Google are just a few—suggests that without the backing of formal policy or widespread public pressure, diversity will continue to get lip service and little more in the private sector.
I applaud Sen. Menendez for bringing transparency to this critical issue, but more so for his proactiveness and actually "walking the talk" on diversity. Bold leadership from folks like the senator and other champions of diversity such as Ranking Member Maxine Waters (D-Calif.), Representative Joyce Beatty (D-Ohio), and Commissioner Luis Aguilar of the SEC, ensure that ideals are translated into action and progress is made. Hopefully, they also use their clout to ensure policies, like those creating the Offices of Minority and Women Inclusion, similarly produce outcomes.
As I celebrate the aforementioned diversity leaders, a question comes to mind: Are there downsides of having a small, but strong, group of champions for this cause? I'll tell you from an advocacy perspective, "Yes." If the majority of us can agree and expect mainstream corporate America to substantially diversify its practices, then the majority of leaders have to champion diversity as well.  But that's not what happens now. Instead, diversity gets relegated to being a fringe issue, left to be championed by the few and the brave.
History has shown that successful movements have leaders, but let us not take that as an excuse to take the backseat in our own lives. Incorporate diversity into your status quo. Understand how the agencies, corporations, and those that represent you reflect this nation. Advocate for the champion inside yourself.