It's not being given a second chance. It's being given the chance that was never given at all.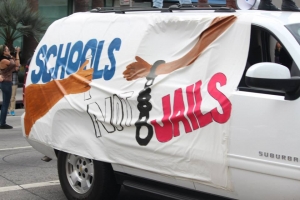 Today, July 31st 2015, the Obama administration announced a pilot program that would provide Pell Grants to some incarcerated individuals who are set to be released within five years. The program, called Second Chance Pell Pilot Program, aims to reintegrate formerly incarcerated people to their communities through an affordable education.
This is groundbreaking. Greenlining has long argued that the formerly incarcerated must be able to reintegrate into society, from jobs to voting rights.
Other than overwhelming data showing that incarcerated folks who participated in education programs are much less likely to return to prison, this program is a significant acceleration to the progress of low-income communities and communities of color. People of color at a very young age are targeted by the police at a disproportionate rate. Because of racial profiling and unlawful use of brutal force – as brought to light by many incidents this past year alone – People of color, especially youth of color are funneled to prison and often never get a chance for an education. Despite the efforts of universities to increase their diversity percentages, the facts still remain – black, brown, and Southeast Asian bodies are criminalized more than invested in; they access incarceration more than education. Sure, they offer degrees to people behind bars, such as Adams State University's Prison College Program (education during incarceration). However, while in prison, their wages do not come close to the amount necessary to pay for an education while in prison or once they're out. The Second Chance Pell Pilot Program allows for those young victims of the school-to-prison pipeline and racial profiling to receive their chance at an education, a chance at economic equity, a chance to live.
If people truly believe that Black Lives Matter beyond their cover photos and hashtags, they should believe in this program. The White House will encounter political hurdles, but they should and must be overcome so that we, as a nation, can give many people the chance they never had.