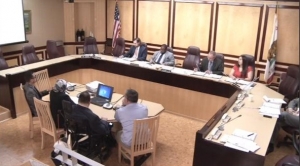 Yesterday I testified at a hearing at the Capitol on Statewide Voter Turnout. Throughout the day, several advocates, researchers, and election officials came before Senate and Assembly members to address the troubling turnout in California's most recent election: a historically low 42 percent of registered voters voted last November. This number is a wakeup call for those of us working in election reform to ask some important questions about why people aren't voting and how our state can change that. The hearing gave me and others working in this policy area a chance to provide some answers.
In my testimony as a panelist on voter outreach, I discussed language access and the importance of outreaching to Limited English Proficient communities. In our recent study, the Claiming Our Democracy team found that many people who speak limited English don't know that election materials are available in nine different languages in California. In California, limited English speakers make up 11 percent of eligible voters, or 2.6 million people. This is an enormous voting base whose voices can be amplified tremendously with a little more outreach.
The hearing was full of good ideas from a number of people representing various segments of the election and voting rights community. Fred Nisen of Disability Rights California discussed, among other strategies, the need to adequately train poll workers to assist people with disabilities and make the voting experience better for disabled voters. Others brought up the importance of modernizing voting systems. Some drew inspiration from states like Oregon, which recently adopted automatic voter registration at the DMV, a measure expected to add 300,000 voters to the rolls.
The hearing showed that many factors play into the problem of low turnout, and multiple strategies will be required to make sure we never experience such dismal numbers again. Encouragingly, the chairmen of the committees dealing with elections in both houses- Assemblymember Sebastian Ridley-Thomas and Senator Ben Allen are both committed to solving California's voter crisis. I found both legislators to be very receptive to the suggestions presented during the hearing. Through the hearing and multiple conversations I've had with the Secretary of State's office as part of the Language Access Advisory Committee, it's obvious that getting voters registered and out to the polls is a top priority for Sacramento. It seems that hitting rock bottom on turnout was just the push California needed to get serious about forward-thinking solutions to engage all of our citizens.