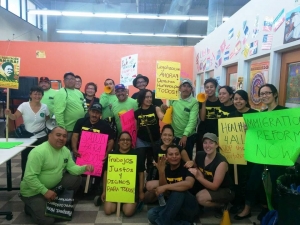 In continuing the drumbeat my co-fellow, Alheli Cuenca, began by sharing her story, I ask that you join me as I share my exploration of self-leadership and how this journey has led me to become a Health Equity Fellow working on issues at the intersection of policy and philanthropy.
I consider myself blessed for growing up surrounded by strong, powerful women and mentors who never placed restrictions on my dreams and instead encouraged me to seek and take advantage of opportunities that would lead me to achieve those dreams. As a child, my naïveté regarding my family's immigration status never seemed to interfere with my goal of attaining a higher education. However, going through the application process as a junior in high school– and realizing that my undocumented status would be a barrier to accessing a college education– marked a turning point in my life. It was a turning point not because I felt limited, but because my status presented me with the challenge of breaking down some of the inequities that stemmed from having an undocumented status in this country.
UC Berkeley was the catalyst that inspired my passion for immigrant rights advocacy. The classes I took, the networks I built, and the groups I became involved with educated, inspired, and motivated my activism. During my first semester at Cal, I joined Rising Immigrant Scholars through Education (RISE), UC Berkeley's undocumented student-led advocacy and support group. The shared experiences with my RISE peers helped me better understand the complexities of being an undocumented student in California. Together, we organized and advocated to fill in the awareness and educational gaps that existed in our schools and neighborhoods across the state. Together, we also challenged the social inequities tied to our immigration status and helped build empowerment within our families and communities.
My involvement with RISE led me to Street Level Health Project, where I had the privilege to interact with and assist undocumented individuals and their families in navigating the complicated health and social service systems. The community members with whom I interacted reminded me of the responsibility I have toward my mother and the rest of my community to end social injustices. Their stories of struggles, hopes, and dreams continuously drive my commitment to social equity.
When I think about what kind of a leader I want to be, I reflect on all that I've learned so far. I think of my hardworking mother and the custodial job she has had since we arrived in this country 20 years ago. I think about my years as a Puentista at Hayward High and the first time I read The House on Mango Street and felt instantly in love with Chicano literature. I think about the undocumented youth who grow up loving this country only to discover that that love is not always reciprocated. I think about the fear and faith that Street Level community members live with every day. And I also think about the educators, mentors and friends who have blessed me with their wisdom and strength.
As a Latina aspiring to be a leader, I often find myself questioning the very definition of leadership. One commonly accepted definition defines leadership as "the action of leading a group of people or organization," but I prefer to define leadership as a growing tree. I like to imagine that my leadership looks like a tree– one that is continuously branching up and out while rooting itself deeper and stronger into the earth.
My roots are grounded in the experiences I've had and the people I've met, and these roots also nourish my desire for growth. My passion for social justice and health equity stems from the core of my tree and has led me to explore the world of policy and philanthropy. I am a firm believer in investing in change and in my short time working at The California Endowment, I've learned that grantmakers can also be changemakers. I feel my branches growing as I continue to learn and build relationships with other emerging leaders. I know that this fellowship experience will not only enhance my leadership, but also enable me to become a changemaker and continue the work towards a healthy and just society for all.