Look down.  What do you see? Only the most clean, reliable and affordable mode of transportation we have:  Our own two feet.
This week in Paris, negotiators representing 195 countries are working on an agreement some hope will be the world's most ambitious response to climate change ever. While the final agreement may leave many unsatisfied one thing is clear, the world recognizes that climate change is real and that we must do something to prevent catastrophic consequences to our planet.
Something I have been doing in Paris this week to reduce my impact on our planet is walking.  Yes, that boring thing. Turns out that Parisians made it incredibly easy to get around their city without a car. Of course this doesn't mean that no one drives or that everyone walks to work, school or play. It means that walking is actually a practical way to get around.
Unlike many cities in the United States, Paris built an infrastructure that supports walking.  Take their expansive tree lined boulevards, where you experience an atmosphere that encourages moving block to block enjoying shops and sights with several hundred fellow Parisians. Or take their promenades with dedicated bike lanes, lush tree canopies, and shared bikes. The Metro in Paris also contributes to a walking culture by linking all sectors of the city via the 12 metro lines and additional rail lines that serve the city.  And countless small businesses, restaurants, shops, cafes, and patiserries form a diverse tapestry of sights making each small, walkable block interesting and unexpected.  And wouldn't you know it, if you happen to absolutely need a car but don't want to pollute, Paris has you covered, with available electric shared-car services.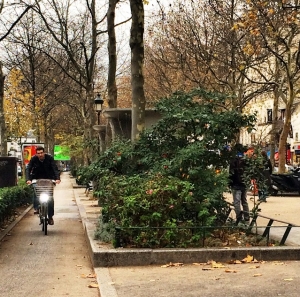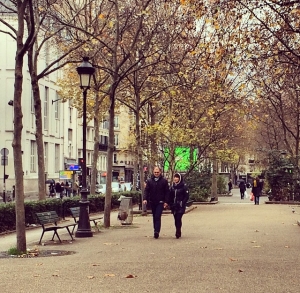 Seeing all this pedestrian-centered culture makes me realize how little we focus on improving the pedestrian experience and how little we value the type of infrastructure needed to encourage people to walk in the United States. The design of many of our cities makes it difficult to walk to your destination. We built car-centric streets with little shade or interesting street culture.  Even cities with more walkable potential (San Francisco, Oakland, Downtown Los Angeles) often lack street improvements (think broken sidewalks) or landscape enhancements like trees that would make it more comfortable to walk.  We also often lack reliable and efficient transportation that would allow us to consider taking public transit instead of driving (if you live in the Bay Area, think how many BART delays you've experienced lately). Our cities certainly do not make it easy to walk, and this has a direct impact on our health and the planet.
It is not all bad news for us, however.  Thanks to California's climate investments generated by AB 32, SB 535, and the Charge Ahead initiative (SB 1275), we may be able to encourage more people to walk.  Decreasing greenhouse gases requires a multi-pronged approach and these investments can move us towards a clean and mobile future.  AB 32 and SB 535 are generating millions in revenue for tree lined streets, efficient public transit, bike lanes, and housing near transit.  Charge Ahead will put 1 million electric vehicles on California roads by 2023, including electric vehicle for low-income families and vanpooling.  Soon we may be have additional funding for transit passes for low-income riders, bike rebates, and other active transportation strategies. These investments not only reduce our dependence on dirty fossil fuels, they also encourage a more healthy and active way to move around our cities.  For low-income communities, these investments represent accessible and affordable quality of life enhancements to their neighborhood.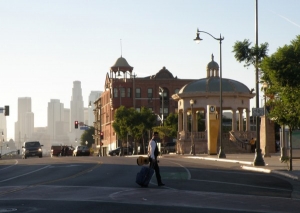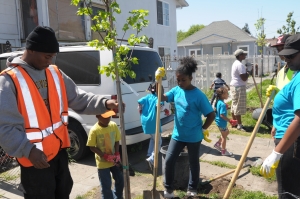 We are not replicating Paris anywhere in California, but if we continue on our present path we may just make it easier to leave the car keys home.
"Everywhere is within walking distance if you have the time." – Steven Wright