A few weeks ago one of our Health Equity Fellows, Jessica Fuentes, blogged about how her experiences growing up shaped her definition of leadership. I want to continue this series of introductory blogs by talking about one of the projects I am currently working on and how my experiences as a youth informed the decision-making process.
Recently I hopped on board a project at The California Endowment (TCE) that enabled me to see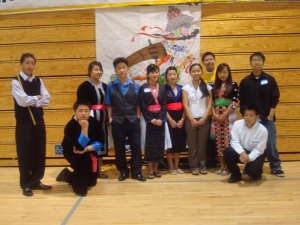 my work come full circle: helping to manage a small grant from the Endowment's communications team to build capacity for youth media. The grant will provide support for an existing youth program in south Sacramento to develop and execute a communications strategy, focusing on areas like spokesperson training and storytelling using digital media.
We want the youth to learn the skills they need to become agents of change and reclaim the narrative on how health issues affect young people of color in under-resourced communities. This represented a chance to bridge TCE's message, "Health Happens Here," to my community in south Sacramento and in order to do so, I relied heavily on some of the most valuable experiences I had as a youth.
Growing up, the fact that my refugee family was poor never bothered me. My parents worked extraordinarily hard. Even though they did not speak English and didn't have the skills to get high-paying jobs, they found other ways to provide for the family. For example, my father would take the extra shifts at work, or my mother would make traditional Hmong clothing to sell at the flea market.
This went on for years and we lived a decent life, but toward the end of junior high, my father was diagnosed with a brain tumor and passed away right before I started high school. My family had no choice but to rely on government support. We moved multiple times to find affordable housing under Section 8, and many times we ended up in broken down homes or neighborhoods wrecked by endless gang violence. At the beginning of high school I found myself struggling to balance my loss with schoolwork and having to help my mother at home.
I didn't know how to cope with my situation until I started participating in an after school program called Hmong Women's Circle, which started in 1999 in response to the high number of domestic abuse and suicide cases among Hmong women in the United States. In the program, I met many strong individuals who shared the same struggles I did, balancing between two different and often conflicting cultures. Together, we work to reclaim our identity as Hmong Americans by focusing on our heritage and addressing the systematic issues we face as women. We  spent two hours a week in activities that build and create strong, healthy relationships and practiced our resiliency through storytelling. Just the simple act of being listened to can be so empowering. This experience gave me the strength to overcome the obstacles I face and the confidence to pursue my dream of going to college.
After a year, the program was removed from my high school due to budget cuts and I initially thought it died shortly after. However, when this opportunity with The California Endowment came along, I did some research and learned that the program managed to survive on a limited budget. Now called Youth Empowerment Program (YEP), it has extended to include both males and females and is the only youth program in south Sacramento that serves the Southeast Asian population. After a great conversation with YEP's newest program coordinator, I suggested that the Endowment support YEP's efforts to create more opportunities for youth to have a voice in the community, and YEP received the grant.
It was exciting to be able to connect the dots between a program that did so much for me when I was younger and the work I do now – that would never have happened had it not been for that program. I strongly believe The California Endowment and other organizations must continue to invest in young people who will become ambassadors of change and leaders in their community. I am grateful that this opportunity has allowed me to reflect and use my experiences to inform the decision making process, because at the end of the day, when organizations invest in communities of color, they are in fact investing in me.