Earlier this month, Juan Reynoso wrote about the Health Equity Fellows and the journey we've embarked on together. To help this all make a little more sense, we're each going to tell you a bit about ourselves and what landed us here. My story begins in Fresno.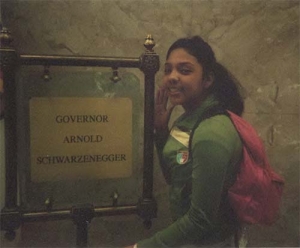 In 8th grade, I applied to attend a conference at the California State Capitol through a program called Capitol Focus, hosted by the California Center for Civic Participation. In my essay, I wrote about how the language barrier between my father and me resulted in me repeatedly agreeing to become a lawyer because I didn't understand what he was saying. I would just say, "Sí papi" to everything he said to me. Every day my dad planted the seed of law school, making sure his youngest daughter knew that she could become a lawyer if she wanted. By becoming a lawyer, I could "ayudar nuestra gente" or help our people — our community.
The day I was selected for Capitol Focus was a glorious and special moment for me, because for the first time in my life I was recognized for my work and potential. My 8th grade teacher invested in me, a young, brown Latina from central Fresno from a working class family with two hard-working, selfless parents. During the program, I met other students from across California, took pictures of the whole experience, and learned about how the state government worked. Before I knew it, the conference was over and I left with one thought: "When I grow up I want to work at the capitol."
Fast forward to college, where I continued to dream of working at the capitol and helping to change lives. I took on my first year at Mills College one day, one exam, and one semester at a time. I declared a major in Political, Legal, and Economic Analysis with an emphasis in Legal Studies and a minor in Sociology. I realized how much I enjoyed learning about government systems, policies, community organizing, and laws.
As I delved into studying societies and institutions, I began to learn much more than I had anticipated. I grew angry as I learned about the inequities across communities of color, yet also felt a sense of empowerment when I finally had the words and concepts to describe and understand the disparities in my neighborhood and hometown — as opposed to just thinking, "This is the way life is for us folks."
The Health Equity Fellowship is giving me the opportunity to come back to Fresno and, with a critical eye, learn more about what is happening in my hometown. Unfortunately, many young Fresnans who leave for college do not come back. I now ask myself, "Would I be here today had my dad not told me I was going to be a lawyer?" Or, "Would I be here today had I not attended the conference at the capitol?" Had these events not happened, I don't know if I would have taken another bold step and applied to Mills College or to the Greenlining Institute Health Equity Fellowship. However, because of the encouragement I received early on, I see my potential. It is my passion to work towards changing the status quo around communities of color and empowering the next generation of young leaders of color.
As a Health Equity Fellow, I have the opportunity to learn directly from some of the greatest minds in community organizing, policy analysis, and communication. At The California Endowment, I work to elevate youth voice and build youth power by supporting programs centered on nurturing youth leadership in ways that reflect the needs of the community. From my own experience, I know that giving youth opportunities to open doors outside of their neighborhoods plays a vital role in their empowerment. At the end of the day, it doesn't matter whether the opportunity is big or small, but that the seed is planted.