Big Oil is a big loser in California. The Golden State is trailblazing a clean transportation future by setting the ambitious goals of getting 1.5 million zero-emission vehicles (ZEVs) on the road by 2025, cutting California's greenhouse gas (GHG) emissions to 40 percent below 1990 levels by 2030 and 80 percent below 1990 levels by 2050. This year's landmark climate law, SB 350 (De Leόn) (Clean Energy and Pollution Reduction Act of 2015), further blazes a trail for clean transportation by aligning with these GHG reduction goals, directing electric utilities to displace big oil, and declaring that widespread transportation electrification requires increased access for low-income communities to clean cars like Chevy Volts and Nissan Leafs.
California sees the acceleration of the electric vehicle (EV) market as a necessary part of the strategy to meet these goals and is making EVs accessible to low- and moderate-income drivers through incentives (discussed below) and other programs.
THE EV REVOLUTION NEEDS PEOPLE OF COLOR
A few weeks back, at the Sierra Club's "Moving California Beyond Oil" summit, I highlighted equity as the key to getting to a ZEV future. California can't meet its air quality and climate goals without low-income communities and communities of color, plain and simple. There are three reasons why:
First. When you protect the least of us, you protect all of us (credit: Manuel Pastor). Global warming emissions hit low-income communities and communities of color first and worst because they are more likely to live near busy roads and freeways, exposing them to dangerous levels of emissions. That leads to higher rates of asthma, cancer, and other pollution-related illnesses, increased health costs and more missed school and work days.
Second. People of color are the majority in California and overwhelmingly support policies that drive us to a cleaner, more sustainable future. State and local officials have a public duty to advance these values. Greenlining recently partnered with Presente.org and others to conduct a poll of California Latino voters. Over 90% demanded climate action, 81% agreed that more money should go to fight pollution in black and Latino communities, and 75% agreed that California should provide financial assistance for low-income families to buy clean cars.
Third. People of color are the fastest-growing consumer segment in California. The graph to the right shows the number of plug-in electric vehicles (PEVs) California needs to meet the 2050 GHG reduction goal ("CARB Vision 2050 Compliant Scenario"). The dotted line shows the historical pace of PEV adoption ("HEV"). The "TEA"* line is based on research that shows the most likely rate of adoption. There's no way we can get to our 2050 goal at current adoption rates. We need more people to buy EVs, sooner.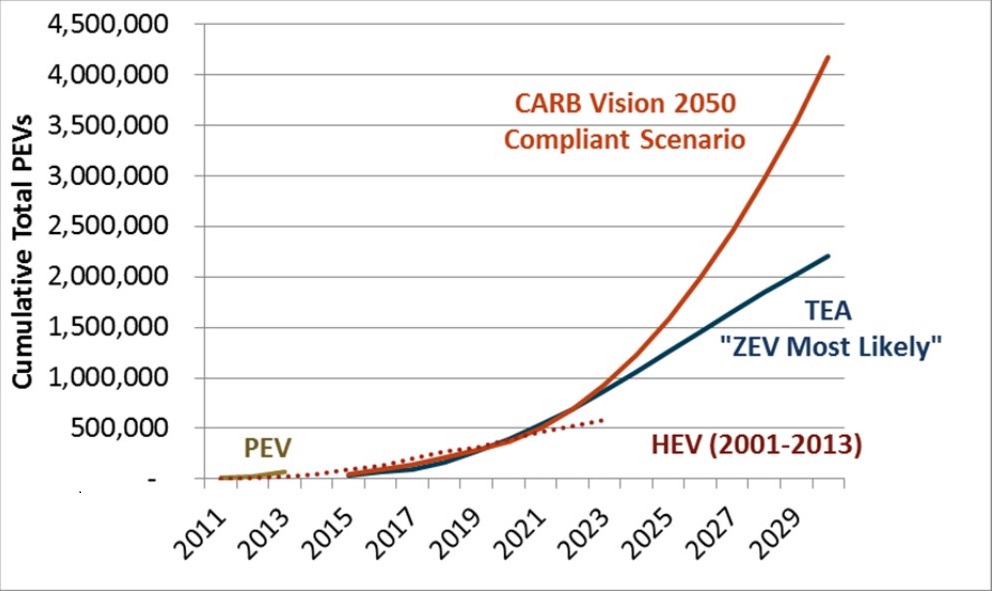 *TEA – "California Transportation Electrification Assessment," research by Energy and Environmental Economics Inc. Click here for more info.
The graph below shows that from 1980-2010, people of color went from 33.4 percent of California's population to 59.8 percent, heading toward 73.1 percent by 2040.
As people of color become a bigger part of California's workforce and population, the state's success and prosperity will depend on the social and economic well-being of these communities. That means more people of color need to buy EVs, sooner, for California to reach its climate goals.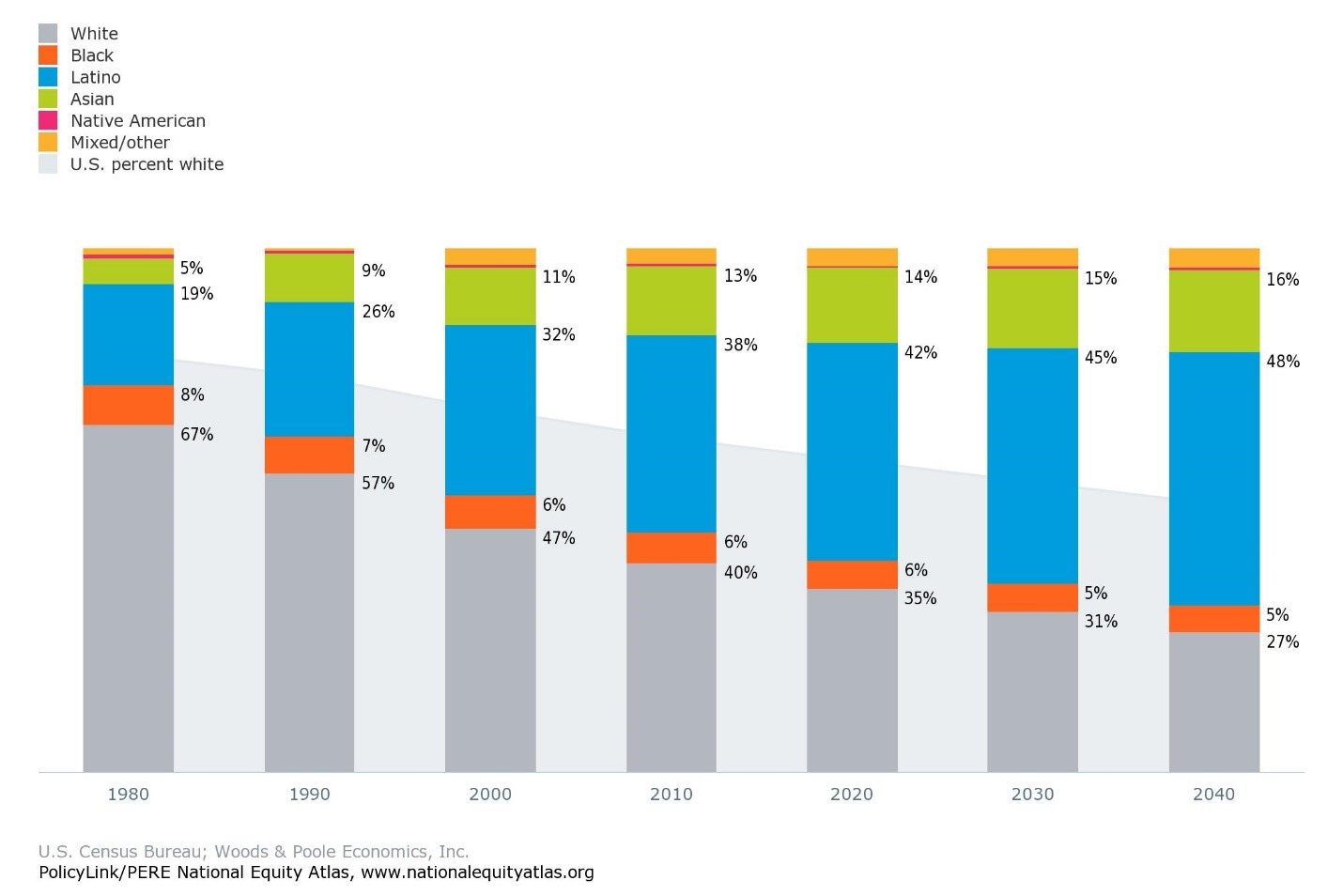 So what is California doing to make clean cars a reality for low-income communities and communities of color? We're Charging Ahead.
CLEAN CARS FOR ALL — CHARGE AHEAD CALIFORNIA!
The Charge Ahead California Initiative (SB 1275, De Leόn), co-sponsored by Communities for a Better Environment, Environment California, Coalition for Clean Air, Natural Resources Defense Council, and Greenlining, works to get one million electric vehicles (EV) on California roads by 2023 by making them affordable and accessible to low- and moderate-income communities. This adds a closer target to Governor Brown's 1.5 million ZEV goal by 2025 understanding that exponential ZEV growth is necessary to meeting California's 2030 and 2050 GHG reduction goals. SB 1275 directs the California Air Resources Board (CARB) to create EV car-sharing programs in disadvantaged communities, low-income financing options that will lower combined monthly car payments and fuel costs, and incentives for replacing gas-guzzling "clunkers" with new or used electric cars or with vouchers for transit and car-sharing.
Let's breakdown the incentives. Three separate California programs provide income-based incentives for used or new advanced clean technology vehicles: conventional hybrids (35 MPG +), plug-in hybrids, or all-battery electric vehicles. The three programs can be combined for up to $12,000 (See Table 2 below for more info):
The Clean Vehicle Rebate Project (CVRP) – Provides California residents with rebates of $2,500 toward the purchase of a new battery electric vehicle (BEV) like a Nissan Leaf or $1,500 for a new plug-in hybrid electric vehicle (PHEV) like a Chevy Volt, and can be combined with other incentives. Starting in 2016, low- and moderate-income consumers can received increased rebates of $4,000 to buy a new BEV and $3,000 for a new PHEV.
The Enhanced Fleet Modernization Program (EFMP) – This scrap and replace program gives $2,500 to $4,500 to individuals who scrap their clunker to buy a new or used cleaner car.
The Enhanced Fleet Modernization Plus-Up Pilot Program (EFMP Plus-Up) – The Charge Ahead California Initiative created this pilot program to provide additional incentives to the existing scrap and replace program (EFMP). Participants who scrap their clunker can receive an additional $1,500 to $5,000 toward a new or used clean tech car, depending on income level (e.g. low-, moderate-, or above moderate-income) and the type of vehicle they decide to purchase (e.g. conventional hybrid, plug-in hybrid, or battery electric vehicle).
Right now though, the combined scrap and replace incentives are only available to residents of two of California's most polluted regions: the South Coast Air Quality Management District (SCAQMD) (all of Orange County and the urban portions of Los Angeles, Riverside, and San Bernardino counties – visit replaceyourride.com for more info or call toll free (855) 483-5107) and San Joaquin Valley Air Pollution Control District (SJAPCD) (all of San Joaquin, Stanislaus, Merced, Madera, Fresno, Kings, and Tulare Counties and part of Kern County – visit valleyair.org for more info or call (559) 230-5800; must attend a free smog check "Tune-in, Tune-up" event to qualify).
So how do you know if you qualify? These two tables show the eligible income levels (Table 1) and the incentives available based on income and type of vehicle to be purchased (Table 2).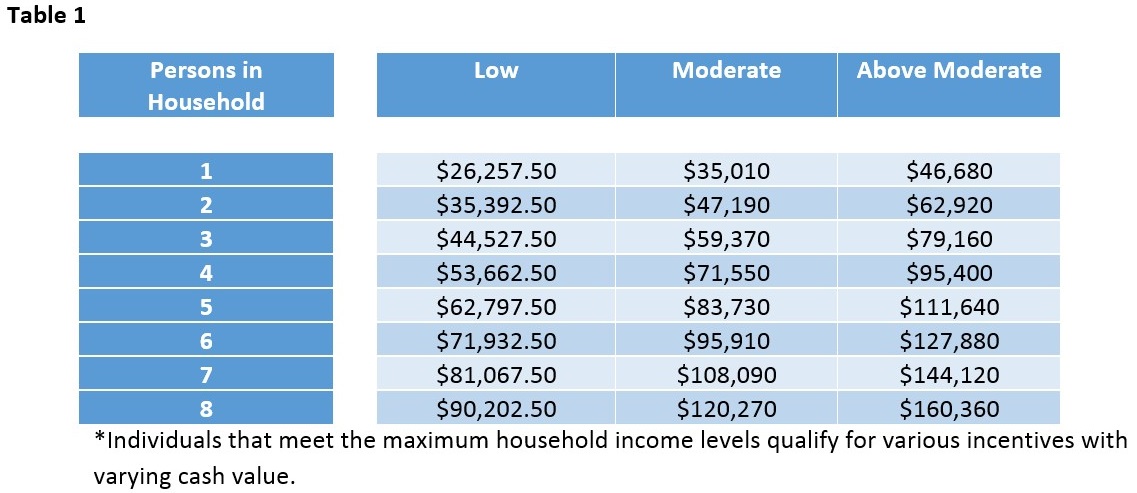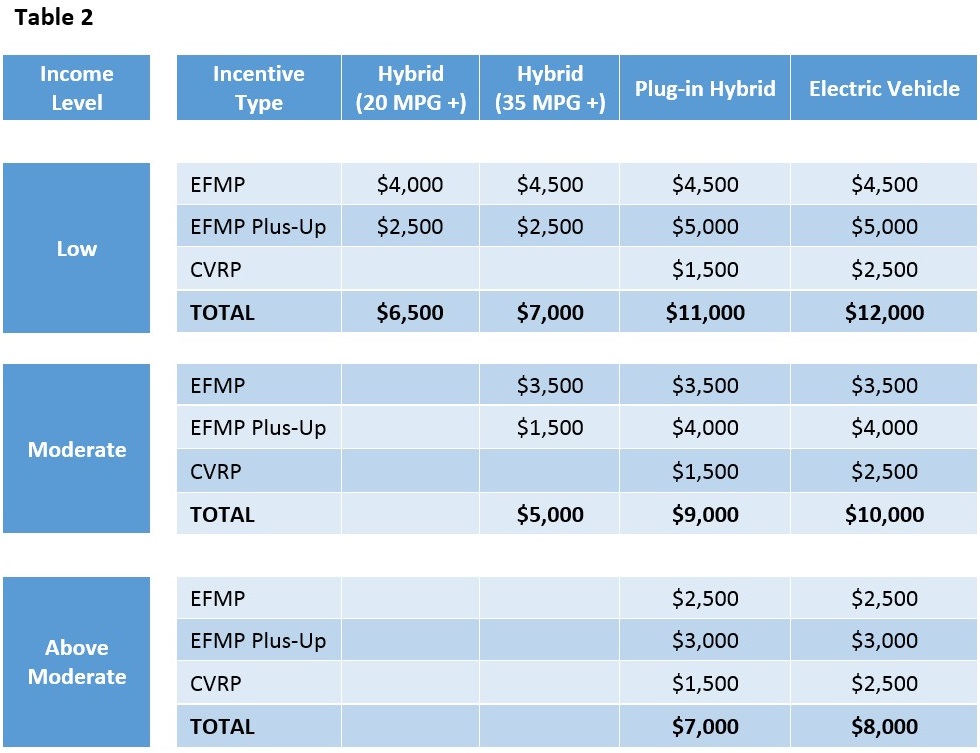 When combined, these programs provide low-income individuals up to $12,000 toward the purchase of a new EV or up to $9,500 toward the purchase of used EV! Used EVs are a gold mine right now, for low-income purchasers. For example, low-mileage, 3 year-old Nissan Leafs are selling for $12,000 to $15,000. After incentives, low-income families who scrap a clunker can purchase a reliable, pollution-free used Leaf for $1,500 and can use money saved from driving on electricity (equivalent to $1 per gallon of gas) to cover any monthly loan payments. That, folks, is what my grandma would call "una gran oferta!" (a great bargain). Just ask Jose Mendoza and his family who are now the proud owners of a Prius plug-in, after scrapping their high-polluting 1985 Ford Ranger.