We are more than halfway through National Drive Electric Week (NDEW)! NDEW is a nationwide celebration of pollution-free, plug-in electric vehicles (PEVs). The goal is to "heighten awareness of today's widespread availability of plug-in vehicles and highlight the benefits of all-electric and plug-in hybrid" vehicles. This year's NDEW is the biggest ever with events in almost 200 cities across the country from September 12-20.
On Sunday, September 13, I attended one of the first NDEW events in Los Angeles. The event was headlined by Senate President Kevin de Leόn on the heels of his SB 350 legislative victory that, when signed by Governor Brown, will lead California to a clean energy future by doubling energy efficiency in buildings and securing 50% of California's energy from renewable sources like wind and solar, all by 2030. SB 350 also "Directs Electric Utilities to Displace Oil Companies" as my colleague from NRDC, Max Baumhefner, puts it in his blog. Electrical companies will have to "increase access to the use of electricity as a transportation fuel."
A relaxed, dressed down, De Leόn rose from the electric bike he had been rolling back and forth on stage, waiting for his turn to speak.  He got to the podium, and wasted no time denouncing the tens of millions of dollars big oil spent to create a "smokescreen" of misinformation and deception over the last few months to defeat the "50% reduction in petroleum use by 2030" goal of SB 350. Nonetheless, Senator De Leόn's voice reverberated as he proclaimed that even without the petroleum goal, SB 350 will be the most expansive climate measure in the history of California, the United States of America, and planet Earth. (Read my colleague Bill Magavern's blog for more info on SB 350 and other climate and energy results from this year's legislative session).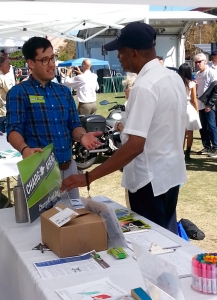 As I stood with Kevin on stage, in support of his climate leadership, I looked into the crowd, at Modern Family's Phil Dunphy (actor, Ty Burrell, was at the event as part of a climate change documentary) and at the array of electric cars available to test drive—from Audis to Nissan Leafs. I thought, man, we need to do better to ensure that low-income communities and communities of color participate in these great events.
I was there to talk to folks about the Charge Ahead California Initiative (SB 175, De Leόn) and the great programs it creates to bring electric vehicle technology to low-income communities and communities of color in California. But, unfortunately, I was speaking to the choir. Chris Paine (director of the Who Killed the Electric Car? and Revenge of the Electric Car documentaries) also spoke and asked at one point, "Who got here in an electric car?" to which a majority of the event participants raised their hand (insert facepalm).
We need to do better, folks—as a climate movement. We need to make sure the story of historically marginalized, underserved, and disinvested communities being left behind is not repeated. Throughout the day, I felt like I was trying to give away free Golden State Warriors tickets from inside Oracle Arena. Everyone already had what I was trying to give away.
The good news is that California has free tickets to give away and is making sure that all communities can get some! Stay tuned, next week I'll talk about how California is making sure that low-income communities and communities of color (who are hit hardest by pollution and climate change) benefit from the clean air and fuel savings electric cars bring.
Until then, there are still three full days of National Drive Electric Week events across California and the country. If you work in the community or know someone who wants to learn more about the benefits of EVs and how they work, invite them stop by a National Drive Electric Week event near them so we can all celebrate charging ahead to a cleaner, more sustainable future!