I stood on the sun-bleached lawn of the California Capitol a few days ago. I felt my navy blue suit slowly insulating the morning Sacramento heat. Some folks took off their coats and tossed them over their shoulders as they heard Senator Kevin De León address a large group in attendance to witness the launch of a new scrap and replace program that will help California get a step closer to meeting its climate and air quality goals. I opted to keep my suit intact and stand proud on this rewarding and exciting day.
Thanks to a first-of-its-kind law, The Charge Ahead California Initiative (SB 1275), this scrap and replace program will help low-income Californians ditch their clunker and get behind the wheel of an electric vehicle (EV). "If we're going to clean our air and fight climate change, we must teach electric cars to speak Spanish and expand access to clean-air vehicles to all communities in California." I heard these words ring from the President of the California Senate (Kevin De León).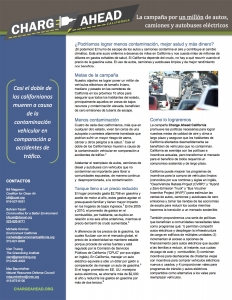 This scrap and replace program, known as the Enhanced Fleet Modernization Program Plus-up (EFMP Plus-up), is the first of a suite of equity programs to rollout from the Charge Ahead Initiative. Other programs set to rollout throughout the summer are EV financing assistance and EV carsharing programs geared toward low income communities and communities of color. The launch of this program marks the beginning of an ambitious effort to increase the number of EVs in low-income communities and communities of color, but the most important part of the work — community outreach and education — has been slowly progressing and must ramp up soon if we want these equity programs to succeed. Until now, EVs have been seen as toys for the rich, but thanks to Charge Ahead California, this is no longer true, and our communities need to know.
Steering Committee members (Environment California, Communities for a Better Environment, Coalition for Clean Air, NRDC, and The Greenlining Institute) of Charge Ahead California understand the importance and need of getting out information about EV benefits and incentives. As a result, Charge Ahead California has teamed up with Valley Clean Air Now and others to bring an EV Ride and Drive event to the Central Valley. On Saturday, May 30, a variety of electric vehicles will be on hand for test drives and demonstrations at the regularly scheduled Tune In & Tune Up event at the San Joaquin County Fairgrounds (Tune In & Tune Up events offer residents free smog tests.) At the events, low-income San Joaquin Valley residents who have owned their car for at least six months can qualify for a voucher for up to $850 towards the cost of needed emission-related repairs. Free emissions tests and vouchers are administered by the San Joaquin Valley Air Pollution Control District and Valley Clean Air Now.
I will be around at the Charge Ahead California booth. Please stop by and I can let you know more about other exciting California programs that will help low-income communities and communities of color access clean cars while cleaning the air.