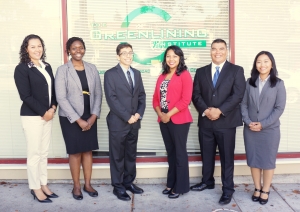 Here at Greenlining, we see diversity and equity as the key to success. Only by allowing everyone to contribute their talents and creativity across all sectors can we build an inclusive, fair, and prosperous society. As President Obama recently stated in his State of the Union address, "We don't just want everyone to share in America's success – we want everyone to contribute to our success." And from this basic principle, the Health Equity Fellowship was born.
Let us provide a little context. The Health Equity Fellowship is a landmark collaboration between Greenlining and The California Endowment, a private California-focused health foundation. It trains young advocates of color, like ourselves, to be part of a new generation of emerging health equity leaders. In this cohort, we are paired with program officers and placed at different Endowment offices: Los Angeles, Fresno, and Sacramento. In addition to going through the Greenlining Academy's leadership development curriculum, the Health Equity Fellows learn and contribute to the Endowment's Building Healthy Communities and statewide initiatives to address health inequities. Unlike your run-of-the-mill fellowship, this one is unique for it seeks to help fill the gap between philanthropy and non-profit policy advocacy. By working together, both sectors can more effectively leverage their respective skills and resources to bring about equitable change. In other words, we stand at the crossroads of two sectors with the potential to contribute to the success of both.
From now and until the end of the fellowship in early 2016, we'll be blogging about our experiences as we navigate these dual spaces. What happens when young people of color, who are accustomed to grassroots and community work, are elevated to statewide policy advocacy and philanthropic decision-making? What does it mean to build a network of emerging leaders of color with a skill set in both philanthropy and policy advocacy? Though the answers to these questions are still unknown, we know one thing is for sure: there will be both victories and challenges, learnings and growing pains.
Along this journey, we'll take strength from each other and from our diversity. We studied anthropology, politics, biology, ethnic studies, social work and public health and delved into community activism, research, and practice. We grew up in working-class neighborhoods up and down the Golden State and from the great city of Detroit, Michigan as well. We are undocumented, refugees, queer, Black, Hmong, Latin@, and much more. Although we come with this diversity of lived experiences and skill sets, we share a common vision for a more healthy and equitable California.
As young professionals, we have an endless passion for a more just society that we hope to bring to our work at Greenlining and the Endowment. Over the next year or so, we'll be blogging about our experiences at the crossroads of two sectors. Expect to hear about Francisco's work with youth development and empowerment among the Boys and Men of Color in Fresno. Stay tune for Jessica's effort in strengthening statewide partnerships to support on-the-ground outreach and education on healthcare access for the undocumented and uninsured population in California. Follow along with Alheli as she evaluates current statewide youth engagement structures to ensure they activate and empower young leaders of color. Anticipate Pang's exploration in developing internal and external communication strategies and follow her thinking process in the grant making experience. Look forward to Ozi's exploration into the ways in which trauma (in its many forms) determines the quality of one's life. And finally, read on as Juan works to help foster safe and healthy communities where all youth and families can prosper throughout the Endowment's Southern California BHC sites.
We invite you to join us on this journey.