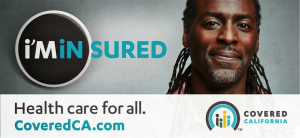 November 1 marked the beginning of the third open enrollment period for Covered California, our state's health insurance exchange. It's hard to believe that only two years ago, I was a Certified Enrollment Counselor in National City, just south of San Diego. The job started as a way to help pay for graduate school, yet it was one of the most impactful professional experiences I've ever had. I vividly remember one client, a woman who endured with me through the infamous glitches and website crashes during the first enrollment period. After a few hours and a trip to Kentucky Fried Chicken to pass the time while we waited for the website to load correctly, I was finally able to get her enrolled in a health insurance plan. I remember her telling me she was so grateful to finally have health insurance because she had postponed a surgery she needed until she had insurance.
Her story resembled many other clients; for some, that was the first time in their lives they ever had health coverage.
The Affordable Care Act has had great success in California, with the rate of uninsured Californians falling to a new low of 13.6 percent. As of June 2015, Covered California had over 1.3 million active insurance recipients. Two new health plans, Oscar Health Plan of California and UnitedHealthcare Benefits Plan, have also joined the range of health plans consumers can choose from. Also new this year is the addition of adult dental benefits through family dental plans.
However, despite the progress made to provide coverage to the uninsured, black and Latino Californians remain significantly underrepresented in Covered California. A new outreach plan launched this year to increase enrollment in these populations and raise awareness about subsidies that can reduce out of pocket costs.
Back in 2013, some young adults, commonly known as "young invincibles," walked out of my office after spending half an hour going through their insurance options, deciding they would rather pay a tax penalty than monthly premiums. At the time, this penalty was $95 per adult or 1 percent of household income. In 2016, the stakes are much higher. For those who choose not to enroll in a health plan, there will be a mandatory penalty of $695 per adult or 2.5 percent of income, whichever is higher.
The rate of uninsured will continue to fall as California made strides this past year to provide health insurance for all children in California, Additionally, Medi-Cal enrollment is year round, so we should capitalize on the momentum of Covered California open enrollment to ensure that our friends and neighbors also benefit from the recent victories to expand Medi-Cal to all eligible children starting in May 2016.
The open enrollment period ends on January 31, 2016. So take a few minutes to check out Covered California's Shop and Compare Tool and see if you and your family qualify for subsidies for your health coverage.