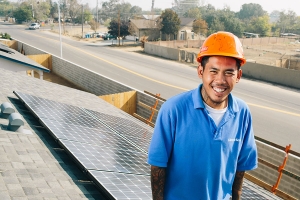 Something amazing is happening in California. We are taking bold steps towards building an inclusive clean energy economy that benefits our neighborhoods, our working families and our planet.  California's growing clean energy economy not only fights climate change, it's already putting Californians to work in good jobs, helping California employment to grow faster than the rest of the U.S.  Today over 430,000 Californians work in energy efficiency, solar power and related fields.  More Californians now work in these fields than in aerospace or movies, TV, and radio combined.  Much more is coming and we want you to know how to join the Good Economy.
Businesses owned by people of color and women play a key role in achieving our vision of a better, cleaner California.  Making business opportunities abundant and accessible to ethnic businesses, particularly those located in disadvantaged communities, is critical to the success of our ambitious fight against pollution.  But these businesses face varied and unique concerns that limit their participation in the clean energy economy.  For example, California lacks systems and infrastructure to engage small, ethnic businesses for contracting opportunities and we haven't had a unified voice to ensure that the concerns of small, ethnic businesses get heard by policymakers. While some policies might have supported the growth of some businesses, a lot more has to be done to address the many challenges limiting participation by diverse small businesses in the clean energy economy.
On April 29, the Greenlining Institute will host The Good Economy Day of Action in Sacramento:  an opportunity to amplify the voices of small, ethnic businesses in environmental policies. It will give ethnic businesses an opportunity to share with legislators the potential and hope they see stemming from environmental investments in their communities.  It will also give them a chance  to present their unique challenges and their ideas for making state contracting opportunities more accessible to small, ethnic businesses.  The Good Economy Day of Action is part of Greenlining's initiative to engage ethnic business chambers and ethnic business associations to ensure that the state's environmental policies meaningfully reflect their voices and concerns – helping build economic opportunities even as we clean the air.  Businesses leaders from all over California will join us in Sacramento for a full day of activities to share The Good Economy Agenda with state legislators and state agency staff.
If you want to attend The Good Economy Legislative Briefing hosted by The Greenlining Institute, The Asian & Pacific Legislative Caucus , The Legislative Black Caucus and The Latino Legislative Caucus in the morning of April 29 please contact Alvaro S. Sanchez at alvaros@greenlining.org.