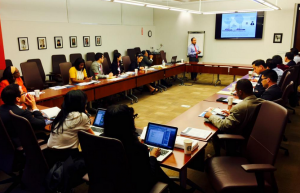 The clean energy economy is taking off in California.  In the last decade California's clean energy economy grew by 20 percent while the total economy grew only two percent.  This means that our state is increasingly getting our energy from renewable sources and more Californians than ever receive their energy from the sun.   California's commitment to renewable energy is improving our environment and making our state more resilient by cutting our dependence on dirty fuels.  These actions have turned California into a worldwide leader in renewable energy and a model for fighting climate change.
While all these signs point in a positive direction, we could be achieving so much more.  The rise of the clean energy economy presents an unmatched opportunity to fight climate change and poverty together, and California's small businesses can play a central role.  Small businesses, especially those owned by people of color, women, and LGBT Californians, will either play a key role in achieving our vision of a better, cleaner California or will be left behind, which would widen our economic opportunity gap.  Diversifying the supply chain of clean energy projects helps everyone:
It builds economic resiliency in disadvantaged communities
It helps slow gentrification by providing economic opportunity and good jobs
It helps promote clean energy initiatives in disadvantaged communities
It builds support for environmental initiatives with non-traditional partners
It incentivizes innovation
It delivers triple-bottom-line (environmental, economic, social) benefits
Making business opportunities abundant and accessible to ethnic businesses, particularly those located in disadvantaged communities, is critical to the success of our ambitious fight against pollution.  But these businesses face varied and unique challenges that limit their participation in the clean energy economy.
For this reason The Greenlining Institute launched an effort to convene ethnic business chambers and associations in California to share information about the state's environmental initiatives.  We hosted convenings in Fresno, Oakland, and Los Angeles that brought together dozens of business leaders who came to learn how environmental investments impact their communities and how their business memberships can gain access to new contracting opportunities.  In the process, they taught us about the many obstacles ethnic businesses face when competing for publically funded contracts.  We felt inspired by their tenacity and resourcefulness to gain access to economic opportunity.
In Fresno we met Tshaka Toure, CEO of Toure Associates, an environmental consulting firm serving the Central Valley and Northern California Region.  Mr. Toure shared with us feeling frustrated by sometimes being invited to join applications for public money but never receiving a contract once the project was funded.  He knows the opportunities are there and suggests that better tracking and reporting of outcomes could help turn those opportunities into signed contracts for his firm. We also met Raziel Arceaga, President of the Asian Business Association Inland Empire.  Raziel highlighted the critical need for clean energy investments that catalyze economic development in disadvantaged communities in the Inland Empire.  Our conversations with this group painted an image of California's Good Economy; an economy that promotes people, planet, and prosperity – an ideal we're working toward, but haven't fully reached yet.
On April 29 we took a big step towards building a movement to bridge the gap between California's clean energy investments and business opportunity for ethnic, women, and LGBT contractors.  Business leaders joined us in Sacramento for The Good Economy Day of Action, an opportunity for business leaders to amplify the voice of ethnic businesses in environmental policies.  Part of "doing it right," participants said, must involve maintaining funding for projects covered by SB 535, which brings clean energy investments to underserved communities, and SB 1275, the Charge Ahead Initiative, which makes clean transportation affordable to low-income communities through programs like car-sharing and clean vehicle rebates. They also urged passage of the EmPower California Act, AB 865, which would level the playing field for businesses owned by women, disabled veterans, people of color and LGBTQ individuals in projects funded by the California Energy Commission.  Business leaders met with legislators, Gov. Brown's staff, and high level state agency staff, explaining how we can drive clean energy investment in underserved communities.  They also called on officials to work collaboratively with them to overcome key challenges limiting their ability to enter the clean energy economy.
State officials heard the message loud and clear and understood the need to strengthen efforts to increase diversity in the energy sector.   In the coming months we will continue to work with business leaders and state officials to achieve this goal.  We will continue to share information about the state's ambitious clean energy goals while helping to provide resources and technical assistance to better position businesses owned by people of color, women, and the LGBT community for state contracting opportunities.  The multiplier effect from applying supplier diversity programs to California's clean energy initiatives will accelerate progress toward a cleaner, better California.  For more information and stories about the benefits from California's clean energy initiatives, visit UpliftCA.org or es.UpliftCA.org en español.