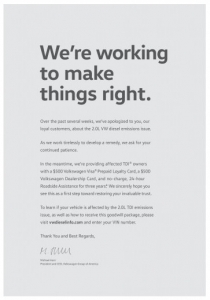 Everyone who breathes is a victim of Volkswagen's diesel pollution dishonesty. But Volkswagen can regain the trust of the American public and turn the worst case of vehicle emissions fraud in our history into an opportunity to do good.
Volkswagen's 482,000 noncompliant diesel vehicles spewed almost 12,000 additional tons of nitrogen oxides (NOx) into our air in one year.  According to Bloomberg Business, that illegal pollution equals 19 million cars. This pollution affects us all, and Volkswagen's dirty diesels poison the air even more in the neighborhoods already hit first and worst by pollution.
In California, those who breathe the dirtiest air are disproportionately in low-income communities of color. The only way to truly bring Volkswagen to justice is to help those communities get access to clean transportation and cleaner air.
There is good news for Volkswagen. We now have a new tool, developed by Kevala Analytics for the California Clean Energy Fund, to identify exactly where non-compliant Volkswagen diesels have affected communities in California. We can now see where diesel owners are, the electric vehicle resources in those neighborhoods, and the pollution and poverty index. Here are some of the things Volkswagen can do with this information to make amends. To start, Volkswagen can:
Provide incentives and financing to help low- and moderate-income Californians drive electric vehicles (including attractive, affordable leases for Volkswagen's electric Golf).
Help deploy charging infrastructure in disadvantaged communities, particularly in multi-unit dwellings.
Pay for electric vehicle car sharing in disadvantaged communities.
Pay for targeted marketing, education, and outreach in disadvantaged communities about electric vehicle benefits and incentives.
Educate dealers about electric vehicles and California electric vehicle incentives for low- and moderate-income drivers.
Provide incentives to dealers for selling plug-in hybrid electric vehicles and electric vehicles to low- and moderate-income drivers.
Hire more workers from the communities it poisoned the worst.
Pay for clean energy job training programs for low-income individuals.
Pay for research regarding nitrogen oxide pollution as well as electric vehicle adoption and barriers in underserved communities.
Of utmost importance,  Volkswagen must right its wrongs equitably by prioritizing those who carry the largest burden of pollution. I hope Volkswagen chooses to take on solutions that place people first and help the communities most affected.