"How many people here know what community benefit is?" asked Sandra Celedon-Castro, Hub Manager of Fresno Building Healthy Communities (BHC). Only a few raise their hands in a room of almost 40 Central Valley residents and community advocates who gathered to attend a community forum hosted by The Greenlining Institute, Fresno BHC, and the California Rural Legal Assistance Foundation (CRLAF), to learn about community benefit – investments not-for-profit hospitals provide towards improving the holistic health and well-being of the communities they serve. Not-for-profit hospitals provide these services and resources to the community in exchange for billions of dollars in tax breaks and exemptions every year. As we began the day, we were very excited to explore opportunities for building stronger partnerships geared towards creating #OneHealthyFresno.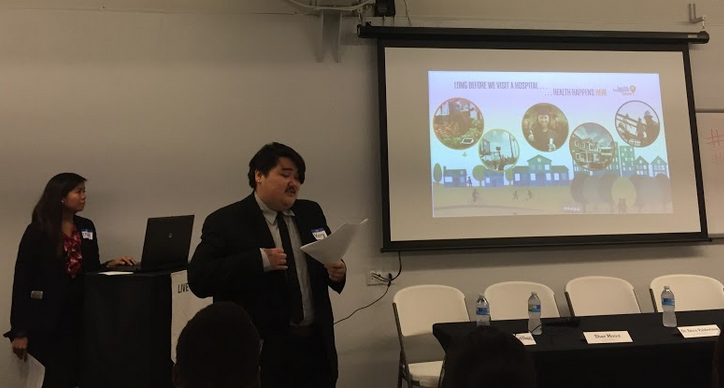 This forum, "Unlocking the Potential of Community Benefit," took place on Wednesday, October 14 at the United Way of Fresno and Madera Counties, where a robust community discussion took place to explore how not-for-profit hospitals can build health in the Central Valley. The day began with Greenlining Health Policy Fellow Kerry Sakimoto presenting his research on community benefits in the Central Valley. He revealed that Central Valley not-for-profit hospitals charged significantly varying rates for the same services (illustrated in the image below), which inflated their charity care expenditures, and made it almost impossible to compare their overall impact in the community. Additionally, through his research, Kerry found that hospitals only spent 0.42 percent of their total operating budget on upstream solutions like housing, the environment, and community building activities.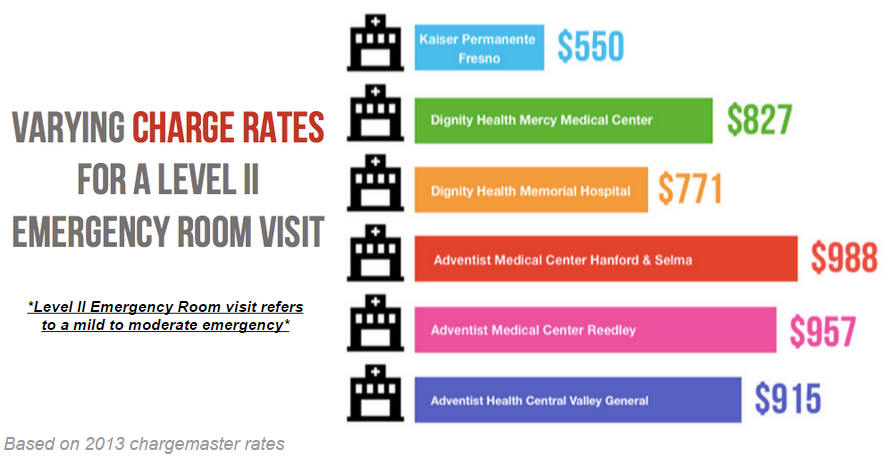 These upstream investments were the focal point of a great discussion during the following panel of representatives from Community-based Organizations (CBO). The panel discussed the construction of a new school built in Fresno, teen pregnancy prevention programs, providing shamans at hospitals for the Hmong community, and health education for farmworkers. These CBOs were grateful for the work they were able to do with this funding to create a healthier Central Valley, but they felt that hospitals were still not maximizing the potential impact of their community benefit spending.
We were also excited to engage with a representative from the Hospital Council of Northern & Central California, to discuss opportunities for forging more collaborative partnerships. Ivonne Der Torosian, Regional Vice President of the Hospital Council of Northern & Central California, presented on the community benefit activities that Central Valley hospitals partake in, including the Community Health Needs Assessment (CHNA) that is currently taking place. Community members were also able to have a frank and honest conversation with Ivonne about how they could provide more input into the community benefits process. Many cited that there hadn't been any outreach about the CHNA, and urged Ivonne to communicate their concerns to her colleagues.
During the final part of the forum, residents participated in breakout sessions to identify ways to collectively work towards more upstream, sustainable solutions to health in the Central Valley. One resident shared that for her community, it is difficult to access the CHNA survey with limited internet access, or even access basic health services, was difficult due to language barriers for those who primarily speak indigenous languages like Mixtec.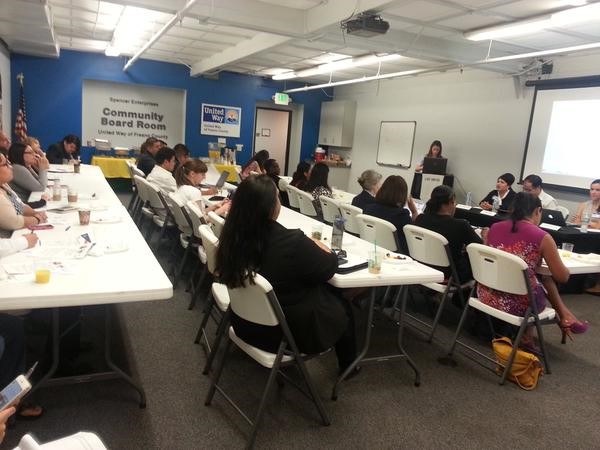 Community members raised several key concerns, which included:
1) In addition to strengthening the safety net, hospitals should prioritize more upstream investments including parks, after-school programs for youth, job training and hiring young people, chronic disease prevention, and increased funding for CBOs.
2) Hospitals needed to increase community engagement opportunities by making it easier for them to participate in the CHNA. These included hospitals going to community spaces (schools, churches, community centers), having a diverse representation of race/ethnicity, LGBTQ, men in vulnerable communities, elders, and youth participate in the focus groups, and providing more language access including Hmong and indigenous languages.
3) The community benefit process needed to be far more transparent including more detailed disaggregation of data, outlined hospital priorities, a list of "community stakeholders" that were consulted, the process by which charge rates were established, and a clear allocation and breakdown of community benefit dollars and community outreach processes
Overall, Central Valley residents felt that not-for-profit hospitals needed to improve their transparency, accountability, and community engagement efforts in order to maximize the potential of their community benefits. As we move forward, it will take the collaborative efforts of low-income and communities of color, local and state officials, CBOs, and hospital representatives to put "community" back in community benefit and work towards #OneHealthyFresno.