America, we have a problem. Over the last six years, the wealth of communities of color has not been protected nor enhanced by homeownership, as displayed by a new Johns Hopkins University study. From 2005-2011, amidst higher rates of lending for low- and moderate-income Black families, buying a home "was not a fruitful asset accumulation strategy." The report highlights this through an astonishing statistic—between 2005 and 2007, African American first time home buyers endured a 47% decline in wealth, while white first time homebuyer wealth increased by 50% during this same period.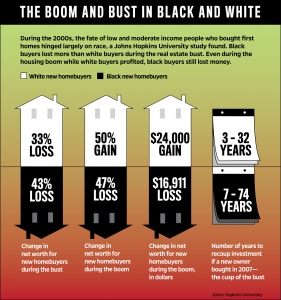 Home lending to African Americans peaked at 8.7% of all US mortgages in 2006, but this came at a time when banks regularly steered borrowers of color into toxic subprime loans with excessive fees and terms. These predatory loans consistently led to foreclosures, producing disparities with long term implications including the largest loss of African American wealth since Reconstruction.
This vast difference in positive homeownership opportunities makes clear that America must admit, we have a problem: the disparate gap in wealth accumulation through homeownership is due to a history of redlining. To make things worse, the foreclosure crisis and the growing racial wealth gap is America's modern manifestation of redlining.
Many, nonetheless; point to the US housing market's slow, but steady rebound from the 2008 meltdown—a surface level understanding of reality. However, looking just below the surface reveals a reality where soaring home prices and  tightened credit access collide, determining who gets to participate in our nation's rebound, widening gaps in access to fiscally sound homeownership. Despite improvements to mortgage products and regulations following the foreclosure crisis, it is clear that many communities of color do not currently have the same access to homeownership as experienced  during the height of the subprime lending bubble.
A sneak peak at Greenlining's forthcoming analysis of mortgage loan data shows this trend in clear focus. In 2013, African Americans—6% of California residents—received just 2.4% of all home loans provided by the state's top 12 largest mortgage lenders. Latinos—38% of Californians in 2013—received just 14% of loans. A look at mortgage loans in Oakland that same year is equally dismal, African Americans and Latinos collectively comprised 58% of the city's residents, but together received just a tenth of all dollars lent by the 12 largest lenders.
Consistent with these findings, the City of Oakland recently announced a lawsuit against Wells Fargo & Co., putting Oakland among a growing list of cities bringing light to the devastation borrowers of color experienced between 2005 and 2011. The city accuses the Bank of steering Black and Hispanic borrowers into loans that were 4.75 times more likely to end in foreclosure. The resulting mortgage defaults from these bad loans impacted one in every seven households in Oakland. Furthermore, the subsequent sharp rise in housing costs now impedes those minority homeowners, tossed out of their homes due to predatory lending,  and no longer able to remain in Oakland even as renters.
So again, America, we have a problem. The wealth of communities of color has not been protected nor enhanced by housing policy and now is the time to fix the problem before the crisis gets worse. Here are three things government must do to immediately:

1) Acknowledge that America has a problem.
We have a problem, partly due to  the disproportionate impact of the foreclosure crisis on communities of color. There is plenty of research demonstrating the growth in racial wealth inequality and its link to the housing market. Yet, is impossible for government to improve this issue—staving off displacement and growing homelessness—without acknowledging that race plays a role in access to homeownership and affordable housing. Communities of color are growing and will eventually be the nation's new majority in just a few decades. Without sustainable mortgage products and more proactive and targeted homeownership support from the federal government, America will miss out on opportunities for broad economic growth.
2) Prioritize Equity When Developing Housing Policy.
The foreclosure crisis is only the latest in a long history of exploitation in housing policy that has undermined the stability of communities of color. Solutions to this dilemma must be bold and comprehensive. Government should build on its efforts to improve access using traditional channels like FHA, Fannie and Freddie, and the Federal Home Loan Banks. Lowering FHA insurance premiums, bolstering housing counseling services, and enhanced marketing and outreach in communities of color are efforts that the government can take today, to improve services in communities of color. In the long-term, expanded access to safe opportunities for homeownership must be balanced with the creation of policies, programs, and regulations that preserves and builds new affordable housing units. Additionally, support for alternative methods of wealth creation, like shared equity models seen in Community Land Trusts are promising strategies that reach communities of color
3) Improve Existing Mortgage Data Collection to Show Accurate Loan Access.
The Home Mortgage Disclosure Act (HMDA) has long been a valuable tool for housing and civil rights advocates. The Consumer Finance Protection Bureau (CFPB) recently announced rules that enhance data collection and dissemination for mortgage information, ultimately creating more accurate and full demographic data by 2018. While disaggregating the data by ethnicity is an important step, particularly to develop a better understanding of dynamics in Asian American communities, it is a voluntary requirement of the banks to collect this information. Our forthcoming report will take a deeper dive into the issue of missing race and ethnicity data in HMDA and the implications for communities of color. CFPB must continue its work to create a clearer process for accurately reporting race and ethnicity.
What is being discussed here is neither an anomaly nor simply coincidental. Our housing policy not only undermines the ability of communities of color to achieve the American Dream, but is a nightmare for millions of Americans and threatens the long-term stability of the entire economy.  Yes we have a problem but that problem presents an opportunity to reimagine the American Dream, to correct systemic failures and provide stability to secure a launch-pad that truly builds wealth for all Americans.