Here's something you don't see every day: two politicians (at least one with serious presidential ambitions) working across party lines to reform the criminal justice system. No, you didn't misread that sentence. It appears bipartisanship in Washington isn't dead after all.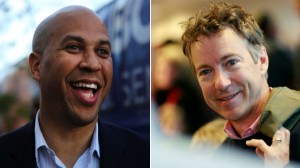 On Tuesday, Senators Rand Paul (R – KY) and Cory Booker (D – NJ) introduced the REDEEM Act. This bill would, among other things, automatically expunge or seal criminal records of juveniles who commit nonviolent crimes and restore food stamp and welfare benefits for low-level drug offenders who have completed their sentence.
The REDEEM Act is a big win for communities of color. Research shows that people of color, especially black and Latino men, are disproportionately represented in the criminal justice system (even when, as is the case with nonviolent drug offenses, whites actually commit the offense at least as often). This disproportionate representation, depending on the sentence, can prevent people of color from being employed, going to college, and voting in state and national elections. Restrictions like these make it difficult for people with criminal histories to reintegrate into society, and may contribute to high recidivism rates, especially among juvenile offenders.
It's encouraging to see politicians in Washington finally embrace policies supported by prison reform advocates outside of the beltway. Here in California, advocacy organizations like Greenlining continuously push for more job opportunities and voting rights for the formerly incarcerated.
This legislative season, our Health Equity team is supporting AB 2060 (Perez), a bill that would increase funding pools for workforce development agencies that prioritize the formerly incarcerated. We support this bill because we recognize that the best deterrent to a life of crime is a job. It seems like the folks over in Washington may finally agree with us.
Expanding job opportunities for the formerly incarcerated is only one piece of a much larger puzzle, though. If we want to integrate the formerly incarcerated back into society, we must also protect their right to participate in our democracy. Greenlining's Claiming our Democracy team is currently hosting listening sessions all over the state to learn more about the obstacles that prevent formerly incarcerated Californians from participating in our democracy.  You can read more about their latest listening session in Los Angeles here.
The REDEEM Act, along with the efforts mentioned above, represents a shift in public perception on how we treat citizens involved with the criminal justice system. There's still no guarantee that the bill introduced by Senators Paul and Booker will even make it out of committee. But in a political climate as fractured and partisan as the 113th Congress, the fact that two senators with different political ideologies are working together to reform the criminal justice system is huge. Here's to hoping this bill doesn't suffer the same death as the last bipartisan effort out of the Senate.