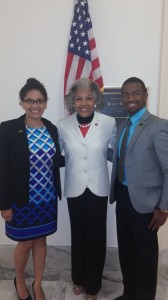 Intern

noun [in-turn]

 :     A wonderful system set up by and for employers to effectively get morning coffee, make photocopies, and to provide comedic relief in the stressful work day. You can comfortably sit back with a smirk as your interns stumble over the simplest of tasks and rest your pre-carpal tunnel wrists as you assign them data entry projects until their fingers bleed.
Luckily for me, Greenlining actually values the contribution that folks still green in their careers make—imagine that!?—and goes above and beyond by immersing college grads in its Summer Associate Program. Technically, it's not an internship, but internships could be like this.
So here I am, week two, standing barefoot, enthusiastically waiting to walk through the metal detector and board a plane from Oakland, California to our nation's great capitol. Boarding with me are the other members of Greenlining's Economic Equity team. We work to build wealth, assets, and financial sustainability in communities of color.
One of the ways that we do this is by supporting the Offices of Minority and Women Inclusion (OMWI) established in 2010 by Section 342 of the Dodd-Frank Act to improve workforce and supplier diversity in the financial sector. The first day in D.C., we held a joint roundtable between Greenlining and NAACP representatives, minority business owners, and OMWI directors to encourage them to adopt standard metrics for diversity reporting and transparency purposes.
Just over a week into this new position I found myself at an OMWI briefing in the Capitol building, standing face to face with Congresswoman Maxine Waters (D-Calif.), who is primarily responsible for Section 342. She describes authoring it as one of her most successful legislative achievements. She spoke with the audience of staffers about the inception of the OMWIs and stated that "when the Dodd-Frank Act was being considered by the financial services committee my CBC [Congressional Black Caucus] colleagues and I were forced to stage a modern day walk-out from the hearing room, to demonstrate our sincere commitment to including section 342." Several years later Greenlining is continuing that demonstration by educating the staffers in attendance about the importance of supplier diversity. Not only is it a powerful economic development tool for communities of color, it's also good for companies' bottom line. By diversifying their supply chain, competition increases, prices are lowered, and service quality rises.
My trip concluded by walking the Hill to meet with members of Congress and staffers. I felt empowered—though I admit a little intimidated—while reflecting on my identity as a young, black male from West Oakland who was responsible for educating senators and representatives on issues critical to communities of color like redlining and divestment. What kept me going however, was a strong belief that my story matters and that my community deserves just as much investment as any other. A highlight was speaking with Congresswoman Joyce Beatty (D-Ohio) and her staffers about the supplier diversity work I am doing through the Economic Inclusion Database, which connects minority and woman-owned businesses to bank procurement offices in order to improve supplier diversity at OMWI-regulated financial institutions. Believe it or not, I had all those experiences before my third week in the program.
I walked into Greenlining twelve days ago with an idea of what an internship might look like, however I am now clear on the difference between a Summer Associate and an intern, based on my experience at Greenlining.
Summer Associate


noun [suhm-er] [uh-soh-shee-yet]

:     A highly valued team member capable of digesting large amounts of information within a short time period.  These individuals have the ability to learn in depth about social justice topics and then advocate for them in a room full of stakeholders, executives directors, and members of Congress.
I am thoroughly enjoying my experience as a Summer Associate.