You may remember my blog post a few months back about San Francisco's soda tax initiative and how people of color are disproportionately affected by things like obesity and tooth decay, both side-effects of heavy soda consumption. Well, it turns out that America's obsession with soda may be 'fizzling out.'
A new infographic from the Health Science Degree Guide shows that soda consumption per capita peaked sixteen years ago (at 54 gallons per year) and has been on a steady decline ever since. Now, in 2014, individual soda consumption is somewhere around 38 gallons annually.
Couple this with the fact that per capita water consumption rates have increased 38 percent during the same time period, and it appears public health campaigns like the one below are working.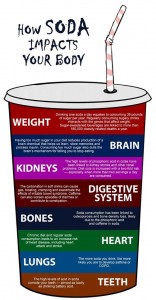 But it turns out water isn't the only beverage stealing some of soda's fizz. Energy drinks are also changing American's consumption habits – and they can contain as much sugar as soda. In 2013, the five most popular energy drinks all saw average sale increases of 6.76 percent.
New legislation has been introduced at the local and state level to curb this upward trend. While San Francisco's sugary beverage tax has been dubbed a 'soda tax', the increased sales tax would also apply to energy drinks. At the state level, SB 1000, introduced by Senator Bill Monning (D-Carmel), would require sodas and energy drinks to have health warning labels similar to those on cigarette packs.
Greenlining supports SB 1000 because we believe consumers have the right to know whether they are consuming ingredients harmful to their health.  While the decrease in soda consumption is good news, the uptick in energy drink sales is worrisome. Infographics like this (and this) are great advocacy tools to help remind people why consuming too many sugary drinks can be hazardous to your health.