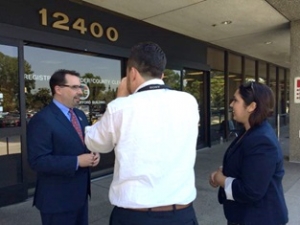 Every couple years (at least), we have an election in California — and millions of people vote, but millions more don't. Does the voting process work for everyone? Could we make it better, more user-friendly?
During the June primary, we had a chance to start finding out. Greenlining teamed up with the Los Angeles County Registrar-Recorder/County Clerk's office – the largest county in the country – to collect feedback from voters about what's working and what's not. This cross-sector collaboration grew out of our work together in the Future of California Elections Collaborative (FOCE).
FOCE, started by the James Irvine Foundation in 2011, connects civil rights, good government groups, and election officials in an effort to work more collaboratively on the issues we all care about.  The underlying idea is simple: By sharing information with each other about what we're doing to improve democracy and the challenges we're facing, we can learn to work smarter, not harder, and tackle some of California's greatest election administration challenges together.
The collaboration between Los Angeles County and The Greenlining Institute is one example of what that looks like. Back in April, Los Angeles County election administrators approached us and said they had noticed a trend in certain pockets throughout the county: Voter turnout was consistently lower than average, and sometimes had high levels of provisional voting (provisional ballots are typically issued when voters aren't on the polling place roster). These areas were predominantly in communities of color and had high concentrations of voters who did not speak English well — exactly the communities that Greenlining serves. They wanted to know what was going on from the voters' perspective and ensure that nothing they were doing on the election administration side of things was contributing to the low engagement. So did we!
During the June 3 primary election, we launched a pilot project which consisted of a voter experience exit survey at the polls and video interviews with voters to gather feedback about the process. Neither of us would have been able to do this alone, but by leveraging our strengths and pulling together our resources, we completed 95 surveys and 40 video interviews with voters in Artesia, Bellflower, Bell Gardens, Hawaiian Gardens, Huntington Park, Monterey Park, and Santa Fe Springs – a sampling of the communities affected by lower than average turnout.
What we learned from those voters was important and interesting, and now we're ready to share the results. We hope you'll join us on July 16 in Newport Beach, California where we're hosting a special film screening about the project and releasing the findings from our exit survey. You'll have a chance to learn how Los Angeles County plans to use the information collected and how you can implement similar methods in your county.
Be Our Special Guest!
"The Art of Listening: Learning from Los Angeles County's Voter Experience Project"
WHAT: Film screening and discussion
WHEN: Wednesday, July 16th 5:30-6:30pm
WHERE: The Newport Beach Marriott Hotel, Grant Pacific Salon E
This event is being held in conjunction with the California Association of Clerks and Election Officials Conference. This event is FREE.
PLEASE RSVP TO
Michelle Romero at micheller@greenlining.org or call (510) 926-4014 for more information.