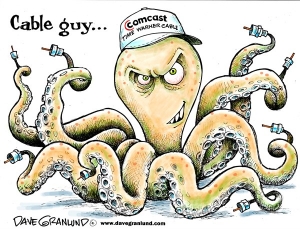 Like Greenlining, the good folks over at Free Press have some serious concerns about the proposed merger between Comcast and Time Warner. Mary Alice Crim, Free Press' Engagement and Events Director, has written a great blog post about Free Press' work on the merger in New York. You can read the full post here, but I'd like to point out some highlights.
Mary Alice notes that the merger has the potential to harm more than just Comcast and Time Warner customers:
A larger Comcast could use its market power to dictate the terms of broadband openness, cost and access at a time when the U.S. lags well behind other developed nations on each of these measures. And you're not off the hook if you're not currently a Comcast or Time Warner Cable customer: Comcast would be so huge that it would set the agenda for the entire industry.
And we're not just talking residential customers—business customers would feel the effects too:
Small businesses that depend on the Internet to compete with more established companies and attract and retain customers would be at risk. Students who use the Internet to do homework and research would be at risk. Organizations providing vital services online would be at risk. Independent media would be at risk. And the list goes on.
The best part of the whole post is the section containing statements from actual consumers who oppose the deal.  My personal favorite:
"Stop the erosion of freedom of choice. The media is the property of the people. Consolidating media outlets into the hands of a few distorts the choices of information available to the public and enforces a form of control and oppression that is a threat to a free-thinking, well-informed and healthy democracy." — Mark, Woodhaven, N.Y.
I'm always impressed by how seriously the FCC (and state commissions like the California Public Utilities Commission and the New York Public Service Commission) consider statements from the public. In my experience, those statements have a substantial impact on those agencies' decisions. So if your state utilities commission holds hearings on the Comcast/Time Warner merger, I encourage you to attend and share your concerns as a consumer. If your state utilities commission doesn't hold hearings on the merger, make sure your voice is heard—contact your local public utilities commission, or legislator, or state attorney general (or better yet, all three)! Finally, if you'd like to express your concerns about the merger to the FCC, you can do so here.