An important new report on voting and elections just came out, which Greenlining is proud to have helped inform.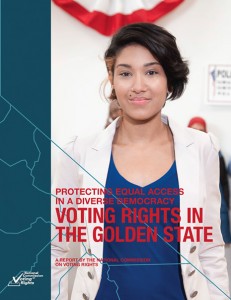 On January 30, 2014, the National Commission on Voting Rights (NCVR), organized by the Lawyers' Committee for Civil Rights Under Law, convened a hearing at the University of California Hastings College of Law to solicit feedback on the problems that voters continue to face, including:
Barriers to the ballot for voters with limited English proficiency
Redistricting processes that limit the number of minority seats
Racially polarized voting
Systemic barriers facing voters with disabilities and voters with felony convictions
Drawing on the testimony delivered by California voters, advocates and voting experts, the NCVR just released a California report, Protecting Equal Access in a Diverse Democracy: Voting Rights in the Golden State. This report demonstrates that barriers to voting are very much alive and well in California, and more work is needed to provide fair access for all.
Among the barriers that exist today, the NCVR found that insufficient language assistance is chief among them. According to the report, between 1990 and 2010, the limited-English proficient (LEP) population in California grew 56 percent and LEP voters make up 11 percent of California's total citizen voting age population. Deanna Kitamura of Asian Americans Advancing Justice-LA testified that a 2008 exit poll found 30% of Chinese American voters, 33% of Filipino American voters, 50% of Vietnamese American voters, and 60% Korean American voters relied on some type of language assistance to vote. Similar exit polling in 2004 showed that 62% of Vietnamese American voters used some form of language assistance. Language barriers may help explain why, according to Mindy Romero of the California Civic Engagement Project at UC Davis, turnout for Latinos and Asians is still 10 percentage points lower than overall turnout and 16 percentage points lower than white turnout. The report documents some of the challenges that persist in providing adequate language assistance per the law, and what can be done better.
I also testified that while current law provides important protections for limited-English voters – such as access to bilingual pollworkers and translated voting materials – it doesn't go far enough. Language assistance should be extended to the ballot initiative process also. An English-only initiative process (since initiative petitions aren't translated) excludes LEP voters from the process of determining which initiatives make it to the ballot. It also subjects LEP voters to manipulation by paid signature gatherers who misinterpret or deliberately lie about the issue they are asking the voter to support. Read my full testimony here or check out pages 14-15 of the report. This issue isn't limited to California:  At least 23 other states also have an initiative system, all of which are English only processes.
In California, we tried to pass a bill that would have created language access in the initiative process. You can learn more about that effort here.
The point is, we have a lot of work left to do. From the report, you'll find that protecting voting rights and access for all is going to require two things:
1) the full implementation and enforcement of current law, and
2) new legislative and administrative policies to fill current gaps and meet the new demands of a growing and diverse new majority.
The San Francisco hearing was the fourth in a series of 25 nationwide hearings conducted by the NCVR to collect testimony about voting discrimination and election administration challenges and successes. The California report will be followed by the release of additional data later in the week on the state of voting in all 50 states as well as a more extensive report on voting discrimination in August. If that report is as thorough as the California report, I can't wait to read it!